Forming the right habits during your pregnancy is key to protecting your health and your child's development.
When you're pregnant and are expecting a child, one of your top priorities is likely to stay healthy to protect your health and aid the child's growth. Fortunately, mothers have the ability to control how healthy they are throughout their pregnancy to ensure their babies get enough nutrition. If you want a few helpful pregnancy habits to adopt every trimester, there are a few important steps to take.
Top 5 Helpful Pregnancy Habits
1. Alleviate Stress
Stress can lead to complications if you experience consistent anxiety at any stage of the pregnancy. Although it can be easy to stress about finishing the nursery in time or choosing the right name for your baby, it can increase your blood pressure and can affect your infant. It's important to alleviate your stress on a consistent basis to ensure you reduce the risk of premature labor or low birth weight.
Consider exercising throughout the pregnancy to burn your energy and feel more relaxed and at ease at the end of your workout. Getting enough nutrition in your diet is also key to reducing your stress levels and feeling more level-headed. You can also spend one day each month at a local spa getting a prenatal massage or facial to relax your body and mind. The massage can remove tension in the muscles and improve blood flow throughout the body.
2. Get Enough Sleep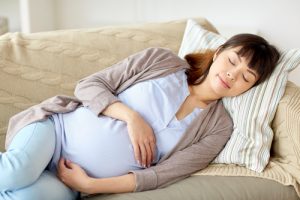 It's no secret that you'll likely wake up several times throughout the night to feed your little one once they arrive. Now is the time to take advantage of extra sleep to ensure you boost your mood, improve your concentration and improve your overall health. A lack of sleep can increase your stress levels and also put you at risk of a c-section when you're close to your delivery date.
Experts recommend getting an average of seven hours of sleep every night to ensure you feel rested and have mental clarity throughout the day. Although it can be difficult to get comfortable as your body grows and changes, you can rely on a body pillow for proper support on your hips, belly and back. The pillow can make it easier to rest comfortably, which can reduce your risk of post-partum depression.
3. Eliminate Toxins
Eliminating toxins is necessary to protect your baby from exposure to harmful chemicals. Keep in mind that anything you eat, drink or even apply to your skin can reach your baby and affect its development. Avoid drinking alcohol, using illicit drugs or using tobacco, according to parents.com.
You can also choose to eat more organic foods to limit your contact with pesticides and increase your nutrient intake. It's also important to avoid using any cleaning products in the home that contain harmful chemicals. Make your own natural cleaning products with vinegar, baking soda and hydrogen peroxide.
4. Stay Hydrated
One of the most helpful pregnancy habits to consider is drinking more water each trimester. Many women fail to stay hydrated, especially when they're feeling nauseous or bloated throughout the pregnancy. Your blood volume can increase by up to 50 percent when you're pregnant as the blood carries nutrients oxygens to the baby. Many healthcare professionals recommend drinking an average of eight to ten glasses of water each day, which can reduce the risk of hemorrhoids, constipation, swelling and fatigue, according to verywellfamily.com.
If you find it difficult to enjoy drinking water, consider adding fruit to an infuser or a splash of lemon to add a bit of flavor.
5. Protect Your Skin
Get in the habit of applying sunscreen to your face, arms and legs when you get ready each morning to ensure you protect your skin from harmful UV rays. Dark sunspots are more likely to develop on your face when you're pregnant and can be difficult to remove or fade after you have the baby. Using tanning beds can also be harmful for the baby.
Knowing the best habits to practice when you're pregnant can allow you to take better control of your health. Although your baby may still be growing, you can take the right steps to care for its health and practice being a great mom.

Pregnancy Basics