Good posture is important for the health of everyone, because it ensures that weight is more evenly distributed and the spine is properly aligned. Proper posture can be even more essential in pregnancy. In maintaining a nice posture, women who are pregnant will be able to keep their own health and the health of the baby in better shape.
Bad Posture and Pregnancy
Pregnancy can be very taxing for some women. At the end of a hard task or a long day, pregnant women may just want to slump back on the couch or bed. Research has found that this is not the best posture for pregnancy.
Posture affects how the baby rests in a woman's womb. Slumping tilts the pelvis backward, and the tilt has the potential to move the baby to a posterior position before birth, which is undesirable. The posterior position can lead to more pushing during labor or even a C-section. Poor posture during pregnancy also helps contribute to aching backs.
Good Posture and Pregnancy
Bad posture during pregnancy has turned out to be unhealthy for both mom and baby. The hard part is finding a way to obtain a good posture. Sitting up straight and lying flat are excellent ways to improve posture. It has been found that this helps to keep the baby in the correct position. This may also help to reduce back pains in pregnant women.
Another way to help with pregnancy pains and baby position is to get up and walk around once an hour. Of course, this means that posture while standing comes into play. To start, the head should be held upright with the chin tucked in a little bit. The head should have no tilt to it.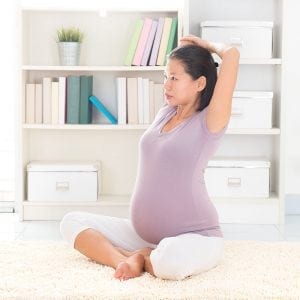 The shoulder blades should be kept back with the chest sticking forward. Knees should always be kept straight but never locked. Feet should be facing the same direction with an even distribution of weight between them. It is important to keep the pelvis aligned too, because misalignment will put the baby in a bad position. Changing positions every so often is also helpful in keeping comfortable and healthy.
Sitting Cross-Legged
Cross-legged sitting is a comfortable position for a lot of people, but there are also a lot of people who believe that sitting cross-legged is unhealthy, especially for pregnant women. For example, people think it causes birth complications, varicose veins and high blood pressure.
The body goes through tons of changes during pregnancy, many of which cause pregnant women to change how they sit and stand. Cross-legged sitting may be a very comfortable position. Research has found that sitting like that will not bring harm to the baby or the labor process. Of course, cross-legged sitting may contribute to things such as back pain, leg cramps and ankle swelling.
Research has found that that crossing one leg over the other does cause a spike in blood pressure, but it is only temporary. Nevertheless, pregnant women with a history of high blood pressure should not keep their legs crossed for a long period of time to keep healthy.
Varicose veins are bulging and twisting veins that stick out of the surface of the leg. They are usually blue but can be red. Varicose veins are often found on thighs, but they may also appear on calves or inner legs. All people are able to get a varicose vein, but they are most common in older or pregnant women. These veins form due to mechanical issues in blood circulation.
Sitting for long periods of time does seem to increase the chance of developing a varicose vein, so it is beneficial to get up from the chair a couple of times a day to exercise. While it is true that sitting does increase the chance of getting a varicose vein, sitting with a cross-legged position does not add extra chance of development.
During pregnancy, it is important to find a comfortable posture that will not harm the baby or cause any unnecessary aches and pains for the mother.

Everyday You

Prenatal Health