Pregnancy is an exciting time of changes. To keep yourself and your baby healthy, you will have to consider products with certain chemicals that might be risky. Here are some safe DIY cleaning options.
Benefits of DIY Cleaners
Even if you are not pregnant, there are numerous benefits of homemade cleaners. One is that they are cheaper than anything you can buy in stores. You also don't have to worry about numerous unsafe ingredients and chemicals that are found in cleaning products found on the shelves. Using everyday items you have at home is usually safer when you are pregnant and won't potentially cause harm to your unborn baby.
DIY cleaners are also ideal because they can help you keep your home sparkling clean. Pregnancy is a time when you absolutely need your environment clean and disinfected. Generally, these types of cleaners are always better for you, your developing baby and everyone else in your household—even pets!
All-Purpose Cleaner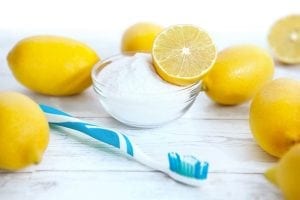 A good all-purpose cleaner is a must for all households. You can make one using a combination of a half cup of warm water, half cup of white vinegar and two tablespoons of lemon juice in a spray bottle. Add around 15 drops of tea tree oil and a bit of lemongrass oil to freshen the scent. Be sure to shake the contents well before use. The reason this is such a great homemade cleaner is that lemon and vinegar are all-natural and tea tree oil contains antibacterial properties. It can also kill other germs and fungi without any harsh chemicals.
Oven Cleaner
Make a pregnancy-safe oven cleaner by using a mixture of three-quarters of a cup of baking soda, a quarter cup of natural liquid soap, one-eighth of a cup of white vinegar and drops of lavender, jasmine, or lemon essential oil to freshen up the scent. When you are ready to use the cleaner, spread the paste along the inside of your oven using an old toothbrush or sponge. Let it sit for a few minutes, scrub it down and then rinse with clean warm water and a rag.
Tub and Tile Cleaner
If your bathtub and bathroom tiles are grimy and dingy, you can easily make a natural tub and tile cleaner. Simply mix a half cup of water, half cup of liquid soap and one and five-eighth cups of baking soda. Add two tablespoons of white vinegar as well and use it on your tub and tiles to see them return to pristine condition.
Toilet Bowl Cleaner
The toilet is one of the dirtiest things in the home. You can use a pregnancy-friendly homemade cleaner to keep it disinfected by sprinkling baking soda around the inside. Add a cup of white vinegar over that and then scrub with a toilet brush. Let it sit for 20 minutes and then flush to rinse.
Lemon and Olive Oil Furniture Polish
You can easily and quickly make a good all-natural furniture polish made of lemon and olive oil. Add a cup of olive oil into a spray bottle and add in half a cup of lemon juice or 20 to 30 drops of lemon essential oil. To use, shake the contents well and spray on your wooden furniture, then clean it off with a dust rag.
Glass and Window Cleaner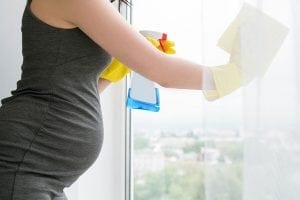 Make an effective and safe glass and window cleaner by combining a cup of water and a cup of white vinegar into a spray bottle. Add in a half teaspoon of liquid soap if desired and remove stubborn stains from your windows in a hurry.
Safe Floor Cleaner
Use this pregnancy-friendly floor cleaner by mixing a gallon of warm water, a quarter cup of white vinegar and several drops of a natural liquid soap into a bucket. You can mop floors made of laminate or wood with this solution. However, if you have a stone or ceramic floor, avoid using vinegar and replace that with a gentle soap to mix in the warm water.
All of these are great cleaners you can make at home yourself. They are all also safe to use during pregnancy and won't break the bank.


DIY Projects

Everyday You

Preparing for Baby