The sense of smell is often called pregnant woman's super power. Science tells us why.
Why do women suddenly have a dramatically heightened sense of smell when they become pregnant? The science behind pregnancy nabs a familiar culprit.
During pregnancy, women frequently report that they have an increased awareness of scents. Some pregnant women even report that familiar smells, including those they have previously enjoyed, make them nauseous. And for many women who are trying to become pregnant, a heightened sense of smell can be the first sign that they are carrying a child.
It's The Hormones
While scientists haven't nailed down a complete explanation of why pregnancy causes these changes, they do know that even more hormones than normal flood a woman's body when she becomes pregnant. Hormones are a normal part of every human's life, but the process of preparing to give birth to another human dramatically increases their presence in the pregnant mother's body.
Hormones are essential to the body's process of nurturing a baby within its mother's womb. However, these hormones are frequently correlated with a variety of physical and emotional changes during pregnancy. Among the hormones that flood a pregnant woman's body are human chorionic gonadotropin (HCG), progesterone, oxytocin, prolactin, relaxin and estrogen. Each has very different effects.
Scientists Suspect Estrogen Is Culprit
Estrogen is the one that scientists believe is responsible for a pregnant woman's heightened sense of smell. Part of the reason scientists reached this conclusion is that research has shown that women with high estrogen levels—even those who are not pregnant—experience a very heightened sense of smell.
It is unclear why estrogen causes this heightened sense of smell. Some scientists have speculated that, like the things other hormones do to a pregnant woman's body, a heightened sense of smell is designed to protect the unborn baby. For instance, a strong sense of smell helps pregnant women steer clear of potential toxins that would be dangerous to inhale or ingest. This could be as simple as the smell of tobacco smoke or fish that was past its prime.
Super Power Can Stink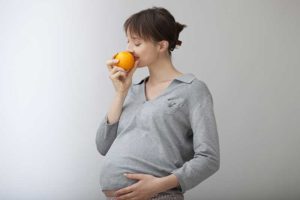 While that may have served women well during the prehistoric era, it's clear that the super power sense of smell can cause problems for pregnant women as they go about their lives in the modern world. For instance, pregnant women frequently report feelings of awkwardness as they encounter co-workers who are wearing heavy amounts of cologne or deodorant.
More than just mere unpleasantness, the super power of a strong sense of smell is frequently correlated with nausea. For pregnant women, this can quickly become debilitating and make it hard to work or perform other daily tasks. (Fascinatingly, there is some evidence that the heightened sense of smell is the cause of morning sickness. Scientific research has discovered that women who suffer from anosmia, a disorder where a person has no sense of smell, do not experience morning sickness at all.)
What Should Expecting Mothers Do?
As unfortunate as it can be and as many tough choices as it can require, pregnant women should be proactive about avoiding smells that may cause them to become nauseous or that cause major unpleasantness.
It makes sense for pregnant women to be eating foods that they like the smell of—frankly, pregnant women are doing this intuitively already. Around the house, washing clothes frequently and opening windows to freshen air can help reduce unpleasant odors.
Many pregnant women also note that there are major benefits to the heightened sense of smell: When they experience smells they love, the sensation can be incredible. So if there's a particular smell you love, this might be the time to buy a scented candle that will fill your living space with that more pleasant aroma.

Pregnancy Basics

Symptoms and Changes