There is so much information out there about caring for your baby during pregnancy. It can be quite daunting trying to decipher between sound science and old wives' tales. One thing that is known for certain though is that your health correlates to your baby's health. Feeding yourself a healthy diet is one of the most essential ways to help ensure a healthy baby. One food which provides a vast array of nutrients and benefits for your body is coconut oil.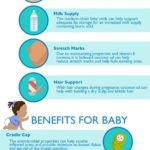 This superfood works wonders for not only your baby's health, but your health as well. It aids the body both intrinsically and extrinsically. Out of all the possible super foods you can feed yourself during pregnancy, this one should be at the top of your list as it reaps a multitude of health benefits and is safe to consume on a daily basis. Once you start to experience the wonder of coconut oil, you will want to continue to use it long after your baby's birth!
The key ingredient
A big reason it is such a wonder for the pregnant body is due to the large amount of lauric acid it contains. It is a particular type of fatty acid that helps your body to regulate cholesterol, maintain a healthy metabolism and it can help stimulate milk production while breastfeeding.
A spoonful (or two) a day keeps the doctor away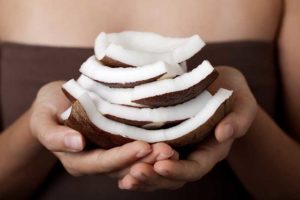 Keep colds, flus and viruses at bay by adding a couple tablespoons of this superfood to your daily meal. It is bursting with antiviral, anti-fungal and antibacterial properties that aid in keeping your immune system in top-notch condition.
According to one nutrition research charity, pregnant and lactating women should consume two tablespoons of unprocessed coconut oil per day to benefit from the oil's lauric acid benefits.
In addition to the benefits of coconut oil, coconut water also can have a slew of health benefits when it comes to your pregnancy. Coconut water is fat-free and one of the richest sources of electrolytes. It is also high in potassium, magnesium and protein and is a good dietary source of fiber, calcium and Vitamin C.
Due to the hydration and natural diuretic properties of coconut water, it can not only keep you hydrated, it can also help prevent urinary tract infections.
A remedy for morning sickness and more
Did you think saltine crackers and seltzer water was the best medicine for a stomach ache because its what your mom always gave you growing up? Coconut has the same soothing benefits as these products, without all the nasty additives. It can ease the pain of morning sickness, heartburn and constipation.
The healthy saturated fats found in coconut oil have anti-microbial properties which help keep gut flora in check, providing a natural aid to digestive issues and making it an excellent immune system booster.
An elixir for your pregnancy glow
Some women may hear the term pregnancy glow and scoff. Cracked and sore nipples? Dry skin and hair? Vaginal itchiness? What exactly is this glowing effect people are talking about? Well, this is where coconut comes in, as its external benefits are on par with its internal benefits. It may not leave you looking like a glowing beauty queen, but it can certainly help to alleviate some of the wonderful exterior changes that pregnancy encompasses. Just a small amount can do wonders for your dry skin and hair. Try a dash of it under your eyes and you may find you have discovered your new favorite under eye concealer. Some women even swear by it as the best preventative moisturizer for stretch marks.

Beauty

Diet

Everyday You

Prenatal Health