Before Conception:
It's strange, but true: Your pregnancy technically begins on the first day of your last menstrual period, before you are actually pregnant. This anomaly means that you will go through weeks one and two of your pregnancy before conception has even occurred. During week one of pregnancy, you will get the last menstrual period you'll have for at least the next 10 months or more. Somewhere near the end of week two, ovulation will occur, releasing the egg that, when fertilized, will become your little bundle of joy.
Calculating Your Due Date:
By the time you get the positive pregnancy test that confirms conception has taken place, weeks one and two of your pregnancy will be but a memory. Because many factors make it difficult for your health practitioner to tell exactly when fertilization occurred, the first day of your last menstrual period is commonly chosen as the starting date of your pregnancy, and your due date is calculated at exactly 40 weeks from that date. It's important to know that this method presents some room for error, as it doesn't take into consideration fluctuations in the length of your menstrual cycle, or the date you actually conceived.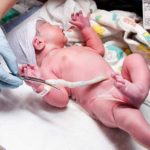 Most of us are familiar with bone marrow and blood donations. Cord blood donations are along the same lines as these when it comes to their use. The blood found in the umbilical cord and placenta shortly after childbirth contains stem cells that are useful for treating many diseases, as the cells are able to grow into healthy blood cells and immune system cells, among others.
Read More

Pregnancy Basics

Week By Week Calendar