Your Baby's Development:
Your baby is a whopping five to six inches long now and he or she looks just like a baby should, but smaller. He or she may start yawning this week, and if you are lucky, you might be able to catch it during your upcoming ultrasound appointment. His or her nervous system starts developing quickly this week and this will continue throughout the rest of your pregnancy.
What You Should Expect:
This week marks a very special occasion for some women: The first time they feel their babies move, although, it is not uncommon to confuse this rolling or "tickling" movement with digestion or gas at this point. Soon enough, you will be able to distinguish between the two. Your baby's movements aren't the only thing you'll be feeling this week though. In addition, you'll also notice aches in your lower back and legs as your uterus continues to grow and your posture shifts.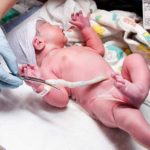 Most of us are familiar with bone marrow and blood donations. Cord blood donations are along the same lines as these when it comes to their use. The blood found in the umbilical cord and placenta shortly after childbirth contains stem cells that are useful for treating many diseases, as the cells are able to grow into healthy blood cells and immune system cells, among others.
Read More

Pregnancy Basics

Week By Week Calendar