Your Baby's Development:
This week your baby is about the size of a mango and while many of your baby's movements up to this point have been reflexive, he or she starts to gain a little more control this week. At this point in your pregnancy, a substance called "vernix" covers your baby from head to toe. This waxy substance protects your baby's skin from the effects of your amniotic fluid. If not for the vernix, your baby would wrinkle and prune much like your fingers when left underwater for long periods of time. Most of the vernix disappears prior to delivery.
What You Should Expect:
You may be feeling even more movement at this point, but you should not worry if you are still waiting for this event. Some mothers don't feel kicking and movement until the 21st or 22nd week. While you may be wanting nothing more than to be able to kick up your feet and relax, you may begin to have leg cramps, especially at night. Ward these off with potassium-rich foods like yogurt and bananas. Who knew a smoothie could relieve pain?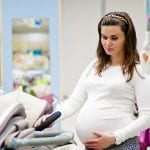 From cribs and strollers to baby monitors and carriers, a new baby requires an extensive list of must-have items before their arrival. For those looking for some guided help, here's a complete guide of key items and considerations to look into before you begin stocking up on all those essential baby items.
Read More

Pregnancy Basics

Week By Week Calendar