Your Baby's Development:
Your growing embryo now resembles a tadpole, complete with a tail, and major organs have begun to develop. Because your baby's brain is growing rapidly in order to regulate his or her body functions more efficiently, the growth of the embryo is now mostly focused on the head, which begins to grow faster than the rest of the body. The body functions that are vital at this point are circulation, heart rate and other functions necessary for survival.
What You Should Expect:
Your body is adjusting to hormonal changes that are occurring at a rapid rate. By this time a missed period is obvious and if you haven't yet taken one for confirmation, an at-home pregnancy test will pick up on the increased levels of the hCG hormone to register a pregnancy. Symptoms are similar to those in the fourth week, but they are more magnified. If you didn't start experiencing morning sickness during the fourth week, this is probably when it will begin. You may notice a darkening of the area around your nipple called the areola. The sebaceous glands on your areola may also become modular, raised and pink in color (this varies with the skin color). Your breasts will be tingly, firmer and large veins may be visible under the skin.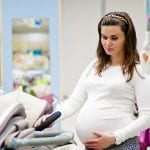 From cribs and strollers to baby monitors and carriers, a new baby requires an extensive list of must-have items before their arrival. For those looking for some guided help, here's a complete guide of key items and considerations to look into before you begin stocking up on all those essential baby items.
Read More

Pregnancy Basics

Week By Week Calendar