Giving birth is undoubtedly one of the most crucial points of any woman's life, and one that requires much consideration. 99 percent of babies born in the United States are born in hospitals. However, there are a variety of birthing locations available. One method that is becoming increasingly popular: home birth.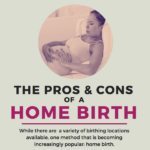 Giving birth at home has become a popular choice over the last decade, partly thanks to celebrity talk show host Ricki Lake's documentary back in 2008 about the subject of childbirth and the variety of labor options. Still, there are many doctors as well as pregnant women who are skeptical about the benefits of home birth and are concerned about health and safety risks associated with this less common method.
How a woman chooses to give birth is ultimately an extremely personal decision which only she can make, but we have listed what we believe to be some very important pros and cons when it comes to the home birthing process.
Pros
You can deliver your child in the comfort of your own home.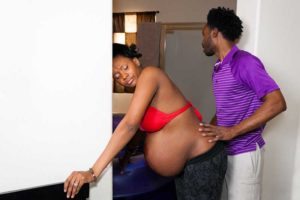 This one is fairly obvious, but it is a reason that many women opt for this type of birth. As childbirth can be very painful and even traumatic, being surrounded by the comforts of your own home and with the people you love can reduce stress levels and fears associated with the birthing process.
During a birth at home, a midwife will assist your pregnancy to allow for a safe and successful delivery. Besides your midwife, you may decide who will share this special experience with you.
This method costs significantly less overall than a traditional hospital birth.
Giving birth in a hospital comes with a hefty bill which is sometimes in the tens of thousands of dollars. Alternatively, births which take place at home can cost thousands of dollars less. While this is often not the main deciding factor for this decision, it is definitely an added perk.
If you are curious to see if your insurance company would cover this type of delivery, look to see if your state is one of more than half of the states in America that requires insurance companies to cover the cost of a midwife.
Giving birth at home allows you to have more control over the experience and have more freedom to do the things you wish while in labor.
If you are giving birth in a hospital, you are essentially stuck in a hospital bed for the duration of being in labor. However, by giving birth at home, you are free to do what you choose, like take a shower. Plus, you can wear whatever you'd like and switch positions regularly.
You can give birth in a more natural way without many common and possibly risky medical interventions.
Women who are looking to give birth without the use of medications and potentially invasive medical procedures may opt for this type of birthing method.
Studies have shown that receiving an epidural, a common pain reliever given out in a hospital during childbirth, can cause sudden dangerous drops in blood pressure and make it more difficult to push the baby out.
Cons
Certain women may require medical intervention during birth which can only take place in a hospital setting.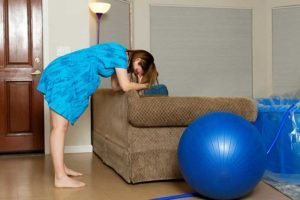 It's possible that a home birth is not right for you due to the presence of certain underlying health conditions such as heart problems. These health conditions can make your birth riskier and therefore require you to have access to things like medications should you need them, which can only be found in a hospital.
Some of these health conditions which can make your pregnancy high-risk include: advanced maternal age, poor pregnancy lifestyle choices such as smoking or alcohol and drug use, pregnancy complications such as polyhydramnios or oligohydramnios which is too much or too little amniotic fluid and underlying medical conditions such as diabetes, high blood pressure or a history of genetic conditions.
Some insurance companies may not cover home births.
Despite thinking that you are saving money, the truth is that some insurance companies will not cover the cost of childbirth that takes place at home. A family blog from the New York Times states that only 33 states require insurance companies to cover midwife services.
In the case of an emergency, you will need to go to the hospital.
Midwives are trained to handle minor birth-related complications, but in the case of a serious emergency, you would need to be transported to a hospital immediately. This can take time depending on how close you live to a hospital.
A study conducted in the UK found that 40 percent of first-time mothers and 10 percent of women who have given birth previously are transferred to the hospital to deliver their baby.
Your pain relief options will be minimal compared to what is available at a hospital.
Epidural analgesia is a popular and effective method for minimizing the pain associated with childbirth. Approximately 60 percent of women receive an epidural during childbirth. This pain relief method is only available at hospitals, and therefore you will have to rely on possibly less effective ways to relieve pain should you choose to give birth at home.
If you wish to give birth at home, it's wise to do thorough research before committing to this method. Despite some risks, this method has many advantages and will be done under the supervision of a registered midwife who can ensure that your birthing process is as safe as possible.

Delivery

Pregnancy Basics