Reflexology is a complementary, non-invasive healing modality, allied to massage therapy, that shows some promise in relieving common pregnancy symptoms.
Reflexology Defined
Although reflexology practitioners generally treat clients by manipulating tissues in the feet, the modality is not simply a "foot rub." The Reflexology Association of America, a national organization of professional reflexology practitioners, defines reflexology as "a protocol of manual techniques …applied to specific reflex areas predominantly on the hands and feet." The reflex areas are believed to be connected through the body's peripheral nervous system to particular organs and body systems. Similar to the effects of acupuncture, stimulating these points promotes energy flow within the body, dissolves energy blockages, and brings the body's energy into balance.
As with some other complementary therapies, reflexology is more widely accepted in Europe and other countries than it is in the U.S. Few clinical studies have been done on its effectiveness for pregnancy complaints, but the experience of reflexologists and their clients suggests that it can be helpful.
Reflexology Treatments for Pregnancy Symptoms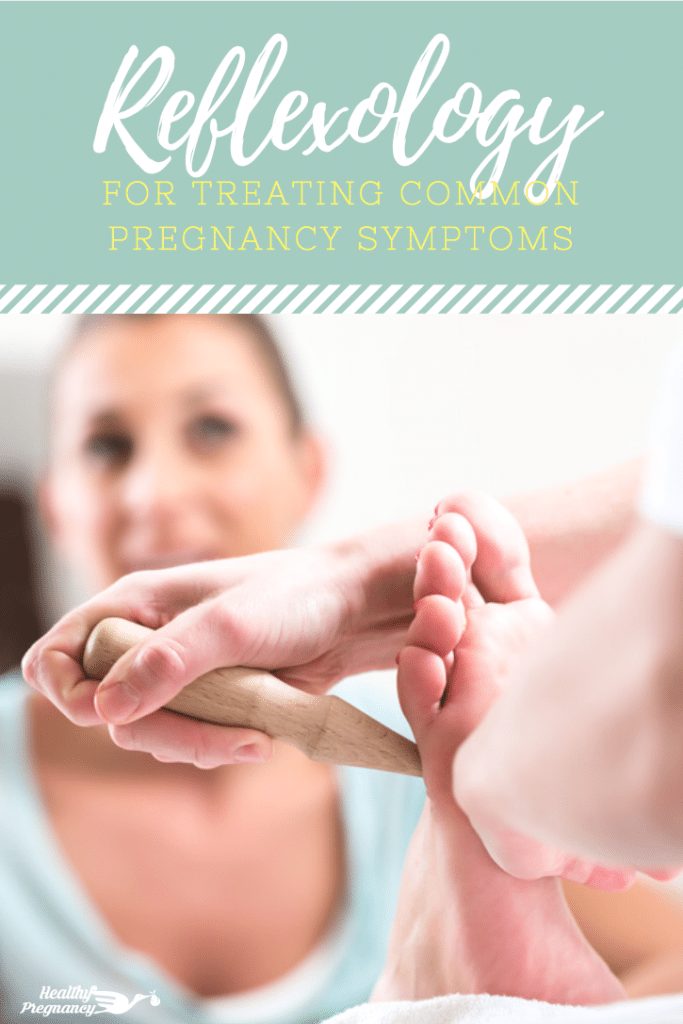 Practitioners claim that by stimulating the appropriate points on the feet, hands, or ears, reflexology can alleviate such common pregnancy complaints as nausea, heartburn and other digestive problems, swollen joints (edema), aches and pains, bladder problems, insomnia, and anxiety. The effect is not permanent and regular sessions may be needed. Since reflexology is non-invasive and does not use drugs, it is generally considered safe when done by a trained practitioner. Because of the higher risk of miscarriage during the first trimester, practitioners usually wait until the beginning of the second trimester before doing treatments.
The American Academy of Reflexology summarizes two clinical studies on pregnant women, one in Ireland and the other in Australia. The Irish study was inconclusive as to benefits but noted that there was no difference in onset of labor between women who received reflexology treatments and those who did not. The Australian study looked specifically at ankle edema but also asked participants about other complaints. Lymphatic reflexology showed a statistically insignificant benefit on edema, but all groups in the study reported a statistically significant reduction in stress, tension, anxiety, pain, fatigue, irritability, and general discomfort. A study of reflexology treatment for patients with advanced breast cancer, funded by the National Cancer Institute, found that it did not reduce nausea or pain but improved some other symptoms. Importantly, reflexology appeared to be "safe for even the most fragile patients."
Reflexology is not advisable if the woman has high blood pressure, preeclampsia, a high-risk pregnancy, or is at risk of early labor. Women with these conditions should discuss treatments with their health care practitioners first. Reflexologists will not work on feet with fractured bones, gout, or other injuries. They may use reflex zones in the hands or ears instead. Treating the ankle above the heel may induce labor and should be avoided unless the woman is ready to deliver. 
Choosing a Reflexology Practitioner
Women who wish to try reflexology to relieve their pregnancy symptoms should look for a qualified practitioner with training and experience in working with pregnant women. Most states require massage therapists to be licensed, and since reflexology is a form of massage, reflexologists may also need a license to practice. A state professional licensing office or the Reflexology Association of American can help determine whether practitioners in a given state need licenses. Practitioners should also be graduates of a professional reflexology program and may be certified by an accrediting body. A state reflexology association or local massage therapy school may be able to help people find practitioners in their area. Some massage therapists are also trained in reflexology.

Emotional Balance

Everyday You

Symptoms and Changes