Antidepressants have been thought to play a role in birth defects in babies whose mothers take the drugs between the first month of conception and the third month of pregnancy.
Depression is a severe mental illness that can affect anyone, and taking medications helps one to live healthily and find a new meaning to life. Having babies can also alter the way you perceive life. Research has shown that there is a relationship between taking anti-depressants and birth defects that occur in babies between the first month of conception to the third month. Some of the effects come later on in their lives. Such effects include autism and other onset cognitive disorders.
Types of Antidepressants Prescribed
The most common medications offered to those who suffer from depression are SSRIs (selective serotonin-reuptake inhibitors), which are often the ideal medications prescribed in the US. Examples of SSRIs include sertraline (Zoloft), fluoxetine (Prozac), citalopram (Celexa), and paroxetine (Paxil).
Antidepressants and Birth Defects
A study done to check the relationship between depression medications and congenital disabilities concluded that those who took escitalopram (Lexapro), citalopram (Celexa), and sertraline (Zoloft) did not show an increase in the risk of birth defects.
However, babies of mothers who used fluoxetine (Prozac) in the first trimester had a high risk of skull and heart defects. Those of mothers who took paroxetine (Paxil) had an increased risk of abdominal, skull and heart defects. Fluoxetine or paroxetine increase the chance of birth defects by two or three times.
A study in the New England Journal of Medicine shows that even though depression medication can result in birth defects, the illness itself and other conditions contribute heavily to the defects. For example, diabetic women have a higher risk of having babies with congenital disabilities than those who are depressed.
Other Factors that Result in Birth Defects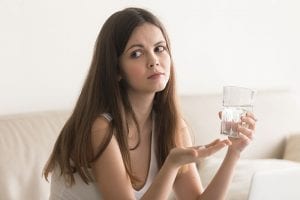 Depression makes one not want to move on with life, regardless of whether the person is pregnant or not. This mental state can lead to alcohol consumption, smoking, and consuming a poor diet, and these factors also contribute to the risk of the infant's having birth defects. Diabetes and anticonvulsant medications also lead to birth defects.
An Expectant Mother's Mental Health
When a pregnant woman is depressed, she is likely to also experience postpartum depression after having the baby, and this increases risks to the baby, like low birth weight. Even though there is some evidence of a link between depression medications and birth defects, such as heart malfunction or brain defects, the mother's mental health is a priority that shouldn't be ignored.
A mentally stable mother will take care of herself to have a good pregnancy and give birth to a healthy baby. Being exceptionally healthy mentally during pregnancy might change everything that can happen after birth.
Alternative Treatment
The link between depression medicines and birth defects has not been fully explored, and therefore, mothers and doctors should have options other than medication for helping a depressed person deal with it. Additionally, doctors should take a closer look at whether or not a woman's depression really warrants medication as those who aren't suffering from clinical depression should avoid taking these medications. An alternative option to explore could be therapy, but if a woman has a family history of depression or has moderate to severe depression, medication is the best form of treatment.
Handling depression should involve everyone who is affected by the pregnancy. The decision about whether or not to take medication and the type of medication should be made after a consultation with a doctor who knows what is going on with the expectant mother.


Concerns and Complications

Pregnancy Basics