Iron is crucial during pregnancy, delivery and labor recovery. Both the mother and baby depend on its key benefits as this is a necessary nutrient to make blood and move oxygen through the body.
Iron Deficiency
For many women, iron is one nutrient that they don't get enough of while pregnant. This can be a result of a poor diet or severe morning sickness that causes a loss of appetite. Without proper amounts of iron in the body, blood production and oxygen flow are directly affected. The baby will take what he or she needs from the mother, leaving the mother's supplies lower. However, if there is not enough iron there to take, the baby's health can be affected as much as the mother's health. One effect of iron deficiency is anemia. In cases of anemia from iron deficiency, it can take several months for mother and baby to recover from anemia associated with pregnancy.
If the mother isn't consuming enough iron through her diet and additional supplementation, she may experience additional symptoms associated with anemia such as fatigue or dizziness. Her skin may appear to be pale and shortness of breath may occur. In addition, severe cravings of nonfood items, such as clay or dirt, may also be experienced. Preterm delivery is one effect of and can result in serious health issues for the baby, both short-term and long-term such as anemia or developmental delays. More severe effects for the mother due to anemia may be found during and after labor. If significant blood loss during labor occurs, the mother may require blood transfusions to help her recover safely.
Labor Recovery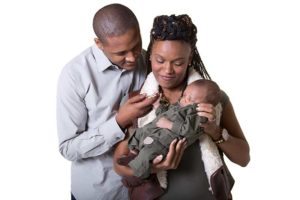 Due to blood loss, many women remain anemic after delivery, though this is often a temporary issue. If the levels were already low during birth, the loss of blood during delivery will make symptoms worse and create a greater risk to the mother and postpartum depression can occur as a result. In addition, creating the mother-child bond may be more difficult without adequate energy and cognition, thus it is important to restore the levels of iron in the blood as quickly as possible. This will help the mother recover quicker and give her the energy needed to take care of her new baby.
For women with low iron levels who want to breastfeed their babies, they may find a struggle with milk production as a result of lower blood levels. Due to poor immune function, milk ducts may clog or the mother may experience mastitis or sore nipples that don't heal well. Babies may end up requiring to be nursed more frequently and may not get full or gain the proper weight needed. This can drain a mother who is already exhausted from the typical symptoms of anemia. In these cases, the mother will often give up nursing and may experience feelings of failure that add to the postpartum depression she may already be struggling with. Adequate supplies of this important nutrient help keep the milk flowing so the baby can thrive and the mother's health and postpartum recovery can take place smoothly and at a healthy pace. In cases where a woman isn't nursing her baby, low iron levels in addition to the start of menstruation will result in more blood loss.
Proper levels of iron can often be attained through eating a healthy diet to maintain safe amounts of nutrients during pregnancy and for labor recovery. However, in some cases, additional supplementation may be required. Vegetables such as spinach, mustard greens, broccoli and asparagus are great sources. Red meat, fish not high in mercury and poultry should be included in the diet as well. Beans and fortified foods are also great choices for maintaining a healthy diet for mother and baby during and after pregnancy.

Postpartum Basics

Postpartum Vitamins