Finding the right maternity clothes for each trimester of pregnancy is easier than you think. You can find options for any occasion, both casual and formal.
When you're pregnant, having clothing that fits comfortably is extremely important. At the same time, however, you don't just want to feel comfortable but look great as well. Why should you compromise just because you're expecting? The great thing is that you don't necessarily have to go on a huge shopping spree to get a whole new wardrobe when you're pregnant. Surprisingly, there are many things you already have in your closet and dresser drawers that may work well on your changing figure.
Maternity Clothing Options for the First Trimester
During your first trimester of pregnancy, you may feel as though you already have a baby bump, but it's really just bloating in those earliest weeks. Regardless, your regular clothes already fit too snugly. It also doesn't hurt to get some great clothes for pregnancy that you can use throughout the nine months.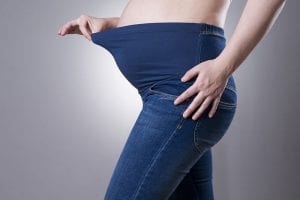 Go through your closet and drawers and find garments that are flowy and that can accommodate your belly, hips, breasts and other areas that are beginning to expand. Shirts, blouses and dresses with an empire waist are great, as are A-line skirts and wrap-type shirts and dresses. Pants that fit more loosely and that have elastic waistbands are great for casual wear as well.
Options for the Second Trimester
By the second trimester, you should definitely own some maternity clothes staples. A nursing bra is also a must as it can fit more comfortably and allow you to breastfeed once the baby comes. As far as outfits go, you should look into getting garments that have buttons, side gatherings, ruches and tie-backs. These kinds of clothes allow you to adjust your attire to your body as it changes while the baby grows. Additionally, they can flatter your growing baby bump.
At this point in your pregnancy, you should take care to avoid garments that are too clingy. Although they definitely showcase your bump, they might also feel too tight and make you feel uncomfortable. This is the time when you want clothing that is stretchable. At the same time, avoid shirts and blouses that are too tent-like as well.
Options for the Third Trimester
Once you reach the third trimester of your pregnancy, you no doubt feel very uncomfortable because of your larger belly size. Standards on clothing, such as buttons, zippers and even waistbands, can be a pain. Pregnancy leggings with a flowy top are both cute and comfortable. Another great option is a dress with an empire waist that reaches ankle-length. These are the types of outfits you can wear even when you aren't pregnant, whether for work or just the weekend.
Additionally, regardless of what trimester you are in, you should aim for a variety of colors and avoid sticking to just one or two. In the third trimester in particular, you may fall into the habit of wearing too much black because it's a hiding color, but to make the best impression, choose a few splashes of color that stand out and flatter you. A great way to do that is to opt for tops and dresses with floral or animal prints. Have fun with your wardrobe at this time!

Beauty

Everyday You