Folic acid plays an important role for women and their babies during pregnancy and beyond, including the time when they're breastfeeding.
Folic acid has incredible benefits for women as well as developing babies both in the womb and outside it. Folic acid helps promote women's, men's, and children's overall health.
What is Folic Acid?
Folic acid, otherwise known as vitamin B9, is a vitamin that helps produce new and healthy cells once it's synthesized in the body. Folic acid can be found in food as well as supplements. Some of the food includes the following:
Leafy, dark green vegetables: spinach, kale, arugula, and other leafy vegetables
Citrus fruit: oranges, grapefruits, lemons and others
Legumes: beans, lentils and peas, to name some
Nuts and seeds: walnuts, flaxseed and almonds
Whole grains: pasta, bread and cereal
Poultry: chicken and turkey
It is recommended that a non-pregnant woman take 400 micrograms (mcg) per day, a pregnant female 600 mcg per day and a lactating woman 500 mcg per day.
Folic Acid and the Developing Fetus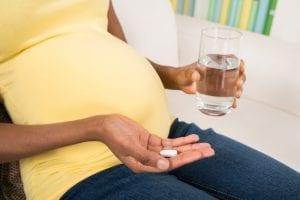 Babies in utero receive major benefits from folic acid. Folic acid promotes proper growth of the developing child. Folic acid can also help prevent major birth defects in developing babies. These birth defects can be very serious and can be prevented with proper folic acid intake. A common birth defect is a neural tube defect that causes disabilities and, in more serious cases, death in developing babies in and outside of the womb. Neural tube defects occur when these tubes don't close in the early development of the fetus. This causes damage in the neural tissue. These children can have anencephaly or spina bifida. Anencephaly is a condition in which a child is born without parts of the brain and skull. Spina bifida is a condition in which the spine of the child is not formed properly, leaving the spinal cord open for damage. Up to 50 percent of these defects can be prevented with the proper intake of folic acid.
Folic Acid and Breastfeeding
Folic acid is a vitamin that provides incredible benefits for developing babies in the womb. However, it doesn't stop there. Folic acid can continue to nourish a child through breast milk. Folic acid promotes the production of new and healthy cells for your body. Think of it as fortifying your breast milk with an added B-vitamin to nourish your child while also nourishing you. Folic acid has been linked to healthy brain development throughout childhood, so it is important that your child continues to receive this nutrient outside of the womb through his or her diet!

Breastfeeding

Postpartum Basics

Postpartum Vitamins