Having a baby, especially as a first time parent, comes with all sorts of unknowns. One of these unknowns is that of how to treat your baby's first fever.
We have put together a guide to try and help answer some of the questions you may have as well as some tips to help to overcome this fever.
What Qualifies a Fever?
The American Academy of Pediatrics says that the normal body temperature for a healthy baby is between 97- 100.4 degrees Fahrenheit (36- 38 degrees Celsius. Any temperature above 100.4 F or 38 C is considered a fever.
When it comes to taking your baby's temperature a rectal thermometer is considered to provide the most accurate results. When using a rectal thermometer a fever is present above 100.4 F, an oral thermometer above 100 F, and above 99 F when using an armpit thermometer.
Keep in mind that the severity of a fever does not always correlate to how sick your baby is.
A fever by itself does not necessarily signal a serious illness. If your baby is behaving normally, then they will likely be okay once the fever passes. However, if your baby is less than 3 months old and the fever is higher than 100.4 F then they should be taken to the doctor.
What is Usually Associated with a Fever?
A fever can stimulate certain bodily defenses to help protect the body against bacteria or viruses. This protection is a good thing for the body to do, but this can cause the baby to feel uncomfortable with a fever.
Here is a list of illnesses that are typically associated with a fever:
Pneumonia
Ear infections
Colds
Sore throat
Croup
Influenza
Meningitis
Blood, bowel, and urinary tract infections
Viral illnesses
Dehydration
The odds of your baby getting a cold within the first few months is unlikely. However, if your baby is between the ages of six months to one year, this is when most babies will get their first cold.
If it turns out to be a cold, you will also notice the following symptoms along with the fever:
Runny, watery, or thick nasal discharge. This discharge is clear, yellow, or green
Sneezing and coughing
Difficulty eating or not having an appetite
Difficulty sleeping
Red and watery eyes
Being unusually fussy and irritable
How Can I Help Make My Baby More Comfortable?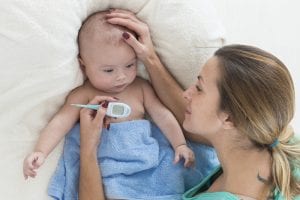 Watching your baby be uncomfortable and in pain is one of the hardest things to do as a parent. Here are a few tips and tricks that you can do to help make them feel more comfortable and get better while having a fever:
Keep hydrated – It is important to keep your baby hydrated with breast milk or formula during a fever to help avoid dehydration.
A fever reducer – Your doctor may recommend that you give your baby some acetaminophen to bring down the fever. If your baby is over six months old, they may also recommend ibuprofen. Make sure to only follow the recommended dosage, this is determined by their weight. Use the measuring device that comes with the medicine to give your baby the exact amount.
A lukewarm bath – You can try putting your baby in a lukewarm bath to try and bring their body temperature down. You can also use wet washcloths and give him a sponge bath instead of using a tub.
Use a cooling fan- Putting your baby next to a fan, or in a room with circulating air, can keep them cooler.
Remove extra clothing- Try to make sure your baby is not overdressed. They can not regulate their body temperatures until they get older. Newborn's can easily get fevers if they are overdressed or in a warm environment. Check to make sure that their room temperature is not too warm or too cold.
Once you have tried some of these tips, check your baby's temperature again. Continue to check the temperature to see if the fever is getting lower or higher
When to go to the Doctor
If your baby is under three months old, you should call their pediatrician immediately with a fever. Trust your gut, if your baby's fever isn't high but you feel like they are acting strange, call your doctor. You are the best judge of what is really going on with your little one.
Some doctors may suggest that you let your child's fever run its course, as it is the body's way of naturally fighting an infection.
If you notice any of the following symptoms along with your baby's fever, call your pediatrician immediately:
Diarrhea
Vomiting
A seizure
An unexplained rash
Acting very ill – unusually sleepy or very fussy
Overall
Your baby's first fever may be a very scary time. You are your child's best advocate and you know them best. If you feel like something is off more than just a fever, do not hesitate to call your pediatrician.

Baby's First Year

Postpartum Basics