A medical condition known as nipple vasospasm could impact a woman's ability to breastfeed her child. There are precautionary measures and treatment options that individuals can take to either prevent the ailment or curtail its manifestations should the disorder arise.
Nipple Vasospasm Explained
This health problem occurs when a woman's nipples become tender, painful or damaged in the weeks and months following childbirth.
Causes
In many instances, the condition is precipitated by a narrowing of blood vessels inside the breast and surrounding the nipple. The vascular constriction can be caused by the repetitive act of breastfeeding an infant. However, the disorder could be elicited by several other conditions including Raynaud's syndrome (in which blood supply to the breast and nipple is inhibited) and mammary constriction syndrome (in which the breasts and chest are significantly stretched).
Typically, the underlying factor causing vasospasm is the way in which the baby latches onto the nipple when feeding. Moreover, the condition might also be precipitated or exacerbated by numerous underlying factors like exposure to second-hand smoke, cigarette smoking, severe emotional disturbances, migraine syndrome and various drugs used to treat ailments like hormonal imbalances and autoimmune disorders.
Physical Manifestations
Vasospasm could bring on numerous symptoms including extreme pain, itching or burning in the nipples and surrounding tissues (especially following breastfeeding), deformed or misshaped nipples, blanching (a whitening) or other nipple discolorations, as well as pain that permeates to other regions of the breasts or chest. Additionally, all said manifestations may be worsened by low air temperatures.
Complications
If vasospasm progresses significantly or if it is left untreated, the damaged or weakened breast or nipple tissue could become susceptible to skin infections.
Effect on Breastfeeding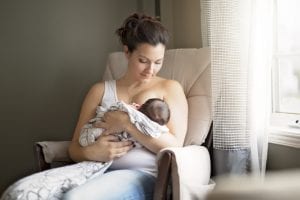 Another important complication is the condition's potential to eventually inhibit a mother's ability to breastfeed due to pain or other associated symptoms. These circumstances would necessitate the identification of alternate means of providing nourishment for the newborn; otherwise, there is risk of nutritional deficiencies that may result in health or developmental issues.
Potential Preventive Measures
Adopting a proactive stance in practicing cautionary safeguards could prevent the ailment's onset. These measures can include the following:
Adjusting the Baby's Feeding Position – The mother's family doctor or obstetrician could provide coaching regarding proper feeding positions that will improve the baby's latch and might prevent nipple damage.
Avoiding Cold Temperatures – Avoiding exposure to cold air is not always possible. However, when indoors, breastfeeding mothers are advised to maintain as warm an environment as possible.
Caring for Impacted Nipples – Breastfeeding women are strongly advised to practice good hygienic habits. Nipples should be frequently rinsed using warm water and soap, and any cuts or sores should be immediately tended to.
Exercising the Breasts – Performing light chest exercises is said to stimulate blood flow to the breasts and might prevent the onset of vasospasm.
Refraining From Precipitating Habits – Women who breastfeed are cautioned to refrain from engaging in potentially harmful activities like smoking, becoming overly stressed, drinking alcohol or ingesting increased amounts of caffeine. Additionally, they are encouraged to avoid exposure to second-hand smoke whenever possible. Furthermore, those who are taking medications should disclose this information to their doctors as certain drugs can elicit vasospasm.
Therapeutic Protocols
Should a woman be diagnosed with the condition, relief might be found by identifying and correcting the exact underlying cause, receiving nipple massages that not only soothe the area but stimulate blood flow to it, or applying creams and ointments to the affected regions.

Breastfeeding

Postpartum Basics