Having urinary tract infections is never a good experience, but during pregnancy, it can be a particularly uncomfortable and unhealthy experience. Urinary tract infections are caused by bacteria entering the urinary tract, which is altered during pregnancy because organs move about to accommodate the baby. This eventually causes the bladder to be constricted by the uterus, making it harder for urine to leave the body and causing an infection. During pregnancy, this can be slightly harder to diagnose and treat because the body changes so much.
How Do I Know if I Have a UTI?
Signs of a urinary tract infection can include pain during sex, pain while urinating, frequent urge to urinate, weakened urine stream, burning, blood in urine, a foul odor, fever or even cramping. Any of these are alarming in a normal state, but certain symptoms such as cramping or fever can be detrimental to a baby or pregnant mother. When urinary tract infections go untreated, it can lead to an even more severe infection in the kidneys. This can cause an extremely low birth weight or premature labor in some cases, so it is important to get diagnosed and treated as quickly as possible.
How is a UTI Treated During Pregnancy?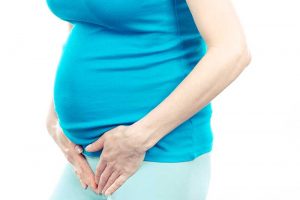 In most non-severe cases, a UTI can be treated both during pregnancy and without being pregnant by a strong, steady course of antibiotics. Simple urine tests can reveal whether you have a UTI or some other type of infection so that treatment can start quickly. Some antibiotics are not safe for your baby, so it is important to get a proper diagnosis and the correct medications prescribed to you so that you are not putting yourself or your unborn child at risk. The usual course of antibiotics is between three to seven days and they usually come in pill or injection form.
How Can a UTI be Prevented?
A urinary tract infection can be prevented easily in most cases, although some people are more prone to getting the than others due to factors such as immune system effectiveness, sexual encounter frequency and number of partners and diet. By drinking a copious amount of water and antioxidant juice such as blueberry or cranberry juice every day, your body has enough productivity to keep liquids flowing and lessen the ability for bacteria to set into your bladder or urinary system. Though it is not easy, eliminating sugars, caffeinated drinks, fried and refined foods and caustic substances from your diet can greatly reduce your risk for developing a UTI during pregnancy. Make sure that you finish urinating completely and that you go without holding urine for too long once the urge is felt.
During pregnancy, it is imperative that after and before engaging in intercourse, you empty your bladder and urinary tract in order to prevent infections from developing as well. If you are under the care of a doctor for a UTI, it is also advisable that no sexual intercourse be had so that you can get rid of your symptoms fully and that they don't get worse. Hot baths for more than 30 minutes are ill advised. It is also necessary to refrain from using feminine hygiene products such as douche or sprays while symptoms persist.
If you think that you have the symptoms of a urinary tract infection and you are pregnant, it is very important to go to the doctor and begin treatment as soon as possible in order to avoid long-term problems or premature birth of your baby. Follow these tips and your pregnancy should go smoothly as far as preventing urinary tract infection prevention goes.

Pregnancy Basics

Symptoms and Changes