If you are brainstorming the idea of trying to conceive, chances are you've heard talk of scheduling a pre-pregnancy checkup 1-3 months out before you begin trying. Are these pre-pregnancy checkups necessary and if so, how do you make the most out of your upcoming appointment?
When you are ready to start a family, it is tempting to jump right in and try to conceive. However, it is important to begin your pregnancy journey by scheduling an appointment with your ob-gyn to go over key issues to ensure a healthy start to your pregnancy. During this important visit, you will get to know your doctor's views on guiding you through pregnancy, delivery and the postpartum period. You will also glean valuable information about your current health and lifestyle that could impact your baby's development. Since most women do not even know they are pregnant until they are at least four to five weeks along, setting up your pre-pregnancy checkup gives you a head start on giving your baby what they need for healthy development.
Gather Family Medical History Information
Right now, you may be focused on how you and your partner are about to be a family of three. Yet, it is important to realize that your baby's health is affected by your entire family tree. Talk to your extended loved ones and find out if there are any disorders that run in your family that could affect your pregnancy or the health of your newborn. The information you share regarding your family medical history will help your doctor create a preventative care plan or order additional prenatal testing to ensure your baby has the best chances for optimal development.
Discuss Current Health Issues at Your Pre-Pregnancy Checkup
In addition to talking about your family's background, your doctor will also need to know about your current state of health. This is because medical conditions such as diabetes can affect your baby's growth. Your doctor will also inquire about any past gynecological health issues, such as fibroids. If this is not your first pregnancy, they will also want to know how many children you have had and if there were any complications during your previous pregnancies. Although every pregnancy is different, knowing about issues such as a history of miscarriages helps your doctor do everything they can to help you have a healthy pregnancy.
Ask About Lifestyle Changes During Pregnancy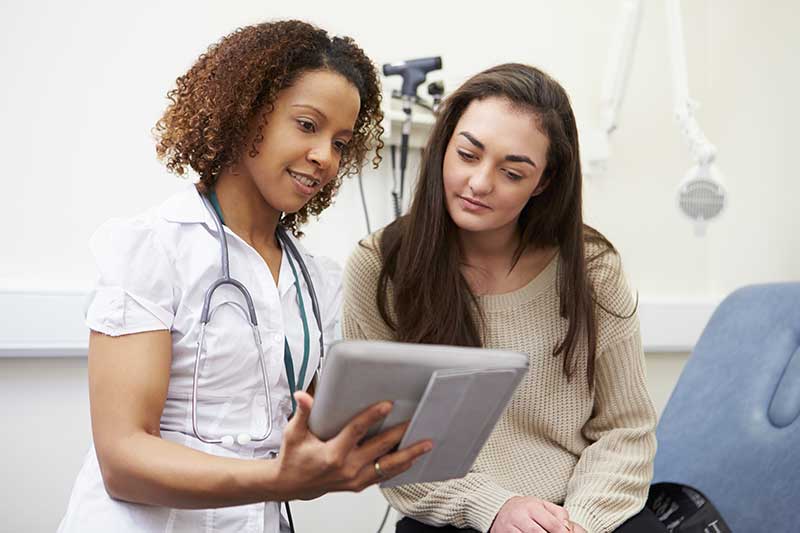 Although it is always recommended that women avoid alcohol, drugs and tobacco during pregnancy, your doctor may recommend abstaining from unhealthy behaviors starting from the moment you begin trying to conceive. During your pre-conception checkup, your doctor may also ask about your partner's lifestyle habits and suggest that they abstain from substances that could make it harder to get pregnant or increase the risk of birth defects. It is also important to talk to your doctor now about other lifestyle changes that may need to occur during your pregnancy such as eating a nutritious diet, adjusting your workout routine and beginning proper prenatal supplementation. Being prepared before you get pregnant will give you more time to adjust to any changes in your habits that must be made until your baby arrives. In fact, this preparations prior to conception can also have a positive impact on your pregnancy symptoms as well. For example, beginning a prenatal vitamin three months prior to conception can help ease or even eliminate the most severe symptoms of morning sickness.
Expect a Thorough Physical Exam
The tests your doctor will need to perform depend upon whether or not you are up-to-date on your recommended gynecological exams. If you have recently had a full wellness exam, then you may be able to skip things such as your Pap during this initial visit. However, your doctor may still probably want to perform a few routine blood and urine tests to check for sexually transmitted diseases, identify your blood type and make sure you do not have any unknown infections. Your doctor may also check your hormone levels if you have had trouble conceiving in the past, and they may run a test to make sure you are not anemic.
Assess Your Doctor's Views Regarding Pregnancy and Childbirth
While you may be poked, prodded and interviewed about your health history during the visit, it is important to remember that you are also assessing your relationship with the doctor. Talk to your doctor about their views regarding the birthing process, and make sure they are comfortable working with you on your preferred birth plan. This way, there will not be surprises towards the end of your pregnancy.
Scheduling a checkup before you get pregnant is the best way to know that your body is fully ready to support a developing baby. During this visit, you will learn what to expect during the upcoming months along with how you can adjust your lifestyle to prepare for your pregnancy. Knowing that you have the all clear from your physician will help you relax and look forward to that moment when you finally get that positive pregnancy test.

Prenatal Health