Pregnancy is a time of a joy, of celebrating new life, embracing the future, and of course, a time of abundant changes. Rest assured that the odd changes you're experiencing while you're pregnant are completely normal.
While you're busy growing a human, there are many changes that your body will undergo. Keep in mind that you might go through some changes with one baby while not experiencing anything out of the ordinary with another. Some of these pregnancy changes might even seem a bit odd, however, many women experience them.
The Belly Button Pop
When you're pregnant, one of the things that you might notice is that your innie belly button will pop out, something that doesn't occur by simple weight gain. So why does this occur? As your baby and your belly grow, the muscles of your abdomen continue to stretch. As your uterus begins to push against the belly button area from the inside, it can easily cause your belly button itself to be pushed outward.
Gas After Pregnancy
Many women notice they pass gas quite a bit more after delivery than they did through the nine months of pregnancy or even before getting pregnant. With your body working overtime-time generating hormones like progesterone and relaxin, muscle tissue relaxes, especially around the GI tract. Rest assured that once the muscles in the digestive system and your hormone levels get back to normal, you will have more control over the gas that is passed.
Bigger Feet
During your pregnancy you may find that your favorite pair of shoes may be a bit more snug than they use to be. The reason for bigger feet when you're pregnant is because of the fluid that is sometimes retained. In addition to fluid retention, as your pregnancy progresses, the arch of the foot flattens out, a result of Relaxin loosening the ligaments and the added weight. If you notice a significant amount of swelling, it's important to visit the doctor so that you can be examined for preeclampsia.
More Hair
Hormonal changes during pregnancy may cause your hair to grow quicker and thicker, and not just on your head. In addition, postpartum you may find that your hair seems to thin. Rest assured these hair changes are all normal responses to hormone fluctuations.
Bad Breath and Bleeding Gums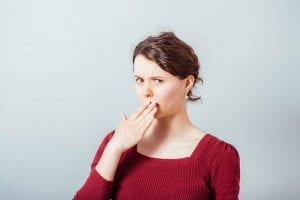 At times, you might feel dehydrated while pregnant. The hormonal changes and dehydration put the saliva glands into overdrive, which can lead to an environment conducive for more bacteria to thrive. The hormonal changes in the body can also cause your gums to become more sensitive to the bacteria in the mouth, which can result in bleeding while brushing. This is why keeping up with good oral hygiene is essential during pregnancy. Morning sickness can also play a key role in your bad breath.
Vaginal Discharge
Among the unavoidable and often unpleasant side effects of pregnancy is the increase in vaginal discharge. The discharge that you notice was likely present before getting pregnant. However, the increase in estrogen during your pregnancy leads to more blood flowing to the vaginal area, resulting in more visible discharge. There will also be more that you notice closer to the time of delivery as the body prepares for giving birth.
Snoring and Drooling
If you're keeping other people awake at night because you're snoring more, there's a reason. With a growing baby bump comes more weight pushing on your lungs, in addition the nasal passages are likely swollen, resulting in more snoring. If that wasn't bad enough, hormonal changes can also lead to an increased production of saliva. So, you may find yourself not only waking up your significant other, but also waking up in a puddle of drool. Try sleeping on your side to get some relief.
Enlarged Veins
We always love having flawless skin, but pregnancy can leave us with anything but. There is more pressure on the veins while you're pregnant, especially the larger veins on the right side. When the veins are larger, the pressure is increased throughout the rest of the body, especially in the legs. This makes the veins appear larger than they might be and can make them appear dark purple or even black at times because of the increased blood flow.
Congestion
During your pregnancy you may feel like you have a perpetual stuffy nose. The swelling in the body as a result of increased hormones and blood production causes the mucous membranes to swell, dry and even bleed. This can result in more congestion and a stuffy nose. The nasal passages are a part of the body that can become swollen while you're pregnant, which can result in a runny nose as well.
Pregnancy Glow
Sure, the pregnancy glow is something most moms-to-be have heard about, but rest assured that not every side effect will exude that perceived notion of pregnancy loveliness, and that's totally normal.

Pregnancy Basics

Symptoms and Changes