For soon-to-be parents looking to announce a pregnancy or their growing baby's gender, these awesome autumn party ideas are a bountiful harvest of fun!
Fall is one of the most exciting times of year, because it ushers in the holiday season when we'll be honoring our families and making new memories. With these 12 pregnancy and gender-reveal party ideas, you'll host an event that's fitting for the season of change.
Gender-Reveal Party Ideas with a Fall Theme
Election Night Gender Reveal
Depending on the year, host a November party and hold a mock election for the gender of your baby and let your guests cast their vote in the official ballot box. Include fun "I Voted Boy" and "I Voted Girl" stickers for even more thematic fun. Those who guess correctly get party favors and bragging rights until the next election!
Bobbing for Apples Gender Reveal
Tap into your inner child, or let the kids have fun with this one. Mark, or carve one apple with the gender of your baby and have your friends try to find it with the classic game of bobbing for apples! The winner gets a special prize!
Pumpkin Carving Gender Reveal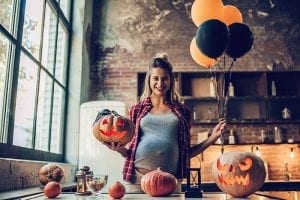 This can be done a number of ways by hosting a pumpkin carving party. One way to achieve this is by hiding, or having someone else hide a small girl or boy doll or trinket inside of one of the pumpkins. Set all the pumpkins out in a row and let guests choose their pumpkin to carve (without revealing the hidden gem inside one of them). Offer a small prize for whoever chooses the right pumpkin and another for whoever carves the best pumpkin! Be sure to cut open all the pumpkins in the initial line up to make it a surprise.
This can also be used for a pregnancy announcement as well, with a hidden ultrasound in one of the pumpkins!
Another pumpkin carving party option is to have everyone carve their pumpkins, for a fun little pumpkin carving aspect, then choose mom and dad-to-be's pumpkin and place a predesignated pink or blue smoke stick inside the pumpkin, light it and step back to enjoy what the smoke reveals! If you don't want to have a pumpkin carving event, you could pre-carve a pumpkin that says "It's A" or "Baby" and place the smoke stick inside for the big reveal.
Corn Maze Gender Reveal
If you have a cornfield maze near you, see about booking or hosting a race to the end of the maze where the prize is a secret chest with a note revealing the gender of your baby, you can also include a small gift for the winner. You can also coordinate with the maze owners to see if they will hide a pink or blue painted pumpkin somewhere in the maze to be found. Another option is to only have mom and dad-to-be go through the maze and after finding a hidden chest in the maze, bring it back to the rest of the party to reveal the news.
This can also be used to reveal your pregnancy by letting guests know you hid a surprise somewhere in the maze for them to find, and hide an ultrasound picture on the path.
Piles of Leaves Gender Reveal
Do you have a lot of friends or family with kids? If you want to host an autumn gender reveal party or pregnancy reveal where the kids can have fun and take the lead in the excitement, this is the one for you! Rake together a bunch of piles of leaves, of one big pile of leaves, and hide a pink or blue piece of paper with "It's a Boy" or "It's a Girl" on the note (or an ultrasound picture), in one of the piles, or somewhere in the middle of the large pile if you choose to just do one. When the time comes, sit back and watch the kids attack the piles of leaves in a scavenger hunt to find the big news!
Pumpkin Spice Cupcake Gender Reveal
For many, Autumn means the season of pumpkin spice and everything nice! Give into the pumpkin spice vibes and host a pumpkin spice cupcake party for your friends and family. Make mini flags for each cupcake that plays into the pumpkin spice theme, "Pumpkin Spice Spice Baby," "I Love You A Latte," "Welcome Little Pumpkin." Paint the bottom of one of the 'flag poles' with blue or pink, and give a prize to the person who chooses the right cupcake! Or you could have the inside of all or one cupcake be filled with pink or blue cream cheese frosting.
Unmasking Your Little Monster
If it's close to Halloween and you want to take advantage of your decorations, host a party where a boy or girl doll is dressed up like a goblin or a ghost. When the time comes, reveal your baby's gender by removing the mask!
Pregnancy Announcement Ideas for Fall
Autumn Harvest Pregnancy Reveal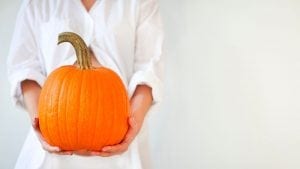 The fall is a time of change, and you're about to be going through a major one! Announce your pregnancy as a change in the seasons with a fall-themed soiree, complete with pumpkins, leaves, earthy colors and gratitude!
Wine-Tasting Pregnancy Reveal
Host a wine-tasting pregnancy announcement party with a twist! Invite people over for what they think is a simple wine-tasting party. Have a group of bottles of wine and one sparkling cider placed out on the table and announce that one of the bottles is unlike the other and specifically yours for a very special reason. For some extra fun you can offer a mystery bottle and invite your friends to guess the vintage. The winner takes home a small prize.
"Winter is Coming" Reveal
Are your friends big Game of Thrones fans? Host a Winter-is-Coming pregnancy announcement party! Amazing but challenging times are ahead, and these children of summer have no idea what is coming next! Have your decor set up to reveal that "Winter is Coming, and so is a Baby!"
A Grateful Pregnancy Reveal
Who is the turkey that got this beautiful lady pregnant? But then again, can you really blame him? Pardon the turkey with a cute pregnancy announcement party that holds a Thanksgiving vibe and plays off the fun of having a little turkey in the oven.
This Crop Sure is Bountiful!
Are you pregnant with twins and looking for a cute way to announce it? Announce your great news with an extra-bountiful harvest party or announcement! Who knew these fields would produce so much fruit! Share the fun by placing two of everything on the table. Two turkeys, two stuffings, two salads, etc… Have signs that say "Buy one, get one," or "Twice the fun" and wait and see how long it takes people to catch on the the theme of twins!
As the traditional season of change, fall is the perfect time of year to have an amazing pregnancy or gender reveal party. By using one of these adorable fall themes for your party, you'll set the stage to build incredible memories that you'll cherish for life!


DIY Projects

Preparing at Home

Preparing for Baby