Premature labor is frightening. According to the American Pregnancy Association, around 12 percent of all pregnancies will show signs of premature labor. This does not mean that everyone who has early signs of labor will deliver early. It just means that they are at a higher risk of doing so. There are a number of steps to take to ensure that you are not going into full labor. The longer your baby can grow inside of your uterus, the better his or her health outcomes will be.
Knowing Your Contractions
It can be very difficult to know if what you are feeling is actual preterm labor or Braxton-Hicks contractions, which are normal and harmless. Braxton-Hicks are typically irregular with no real pattern or predictability to them. They may feel strange or uncomfortable but rarely cause any real sense of pain. If Braxton-Hicks contractions seem to be occurring more frequently or more intensely, or if you have other symptoms of preterm labor, you should take immediate steps to see if things improve for better or worse. If symptoms continue or worsen, call your doctor or go to the nearest ER for evaluation.
Preterm labor is usually more painful and may involve fainting, vomiting, light-headedness, and headaches. If you are contracting more than five times per hour, or at a regular pace in a predictable pattern, try the coping methods listed below for one hour. If there is no improvement or conditions worsen, call the doctor or go to the ER.
Coping Methods
Drink two to three large glasses of water. Dehydration can cause preterm labor even in people who are not at risk for it.
Lie down on your left side.
Urinate to empty your bladder.
Continue to monitor your symptoms.
Try to relax as much as possible.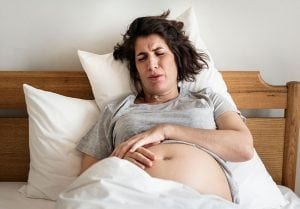 Hopefully, the sensation will stop and you can continue with your day normally. If not, you should make note of how you feel, because the doctor may want to know. Things you may be asked include whether you have a headache or feel light-headed, or if anything happened before you noticed the possible preterm labor.
When It Might be Preterm Labor
While Braxton-Hicks are common and normal, there are warning signs that you might be having preterm labor without contractions in a regular pattern yet. These warning signs are:
Bleeding
Watery discharge or a gush of fluid from the vagina
A dull backache. This can come and go or be constant.
A feeling of pressure in your pelvis
Cramping in the abdomen. This can be accompanied by nausea or diarrhea.
The feeling that something is slipping out of your vagina
If you cannot get ahold of your doctor quickly, go to the nearest ER and have them page your doctor from there. If there is an OB doctor on-call, they will probably have him or her examine you. If there is no time to wait, that doctor might start treatment without consulting your regular doctor for the safety of you and your unborn baby.
There are medications doctors and nurses can give you to stop preterm labor, especially if you are too early in your pregnancy. There are side effects for these medications, which the nurses will explain to you. It is frightening but try to stay calm and listen to the instructions that the nursing staff gives you.
If the labor is stopped, you will probably stay in the hospital for monitoring for several days. If you are deemed at high risk, they may try to keep you on monitors for several weeks in the effort to give your baby the best chance of growing and getting stronger. If you are sent home, it is important that you follow the guidelines you are given so that you can continue your pregnancy as close to the 37 weeks as possible.


Concerns and Complications

Delivery

Pregnancy Basics