If you're expecting, you want to do everything you can to ensure your pregnancy goes smoothly. Certain DIY projects can harm both you and your child.
So, if you're intending to do a bit of renovating to make room for your baby, and you and your partner feel you're up to the task to renovate yourself, you should first consider the health effects it might have on you and your baby. Obviously, some of these factors depend on how far along you are, but to ensure the health of your child, you should consider the potentially harmful impact of the following DIY projects.
1. Painting Can Be Bad for Pregnancy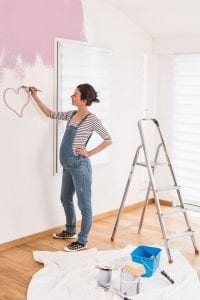 Scientists have shown that a high exposure to paint can have devastating effects on newborns. It can make mothers miscarry, and the baby could have a low birth weight, may acquire developmental disabilities or could even develop cancer. Granted, these extreme cases are associated with high exposure to paint. An hour or two spent painting a room shouldn't have too much of an effect on either the mom or baby. If the mother just so happens to be a professional painter or works in a paint factory, however, she might want to go on leave for a while to better protect her child.
Expecting mothers should also stay away from old, chipped paint. A popular renovation project is to remove old paint to make way for new paint or wallpaper. Although lead has been illegal to use in paint since 1978, some lead-based paint still exists. Unless you know for sure that the chipped paint you're removing doesn't contain lead, you should stay far away from it. Lead has a devastating effect on both children and adults, especially with increased exposure.
While mothers can paint in small increments, this is a project best left for a partner, friends, or even a hired professional. The latter can most assuredly have the project completed in a matter of hours, and the mother can rest her feet instead.
2. HVAC Maintenance
Whether you plan to install a new HVAC unit or just have it maintained, expecting mothers shouldn't be given this job. Not only does it require a lot of bending, squatting, and other positions that could prove uncomfortable for the baby, but the existing HVAC unit could have dangerous chemicals in it. You've undoubtedly heard of the potential for carbon monoxide to leak from HVAC units. Whether there is a leak or not, the HVAC unit always has small amounts of carbon monoxide within it. Unborn babies should be kept far away from this exposure as it can lead to serious developmental issues.
While you may be eager to have your AC or heat working properly, especially to make your child comfortable in the hot and cold months, this is a project best left to the professionals. They have the tools and expertise necessary to have that unit working properly, and you can stay far away from the dangerous chemicals lurking within it.
3. Gardening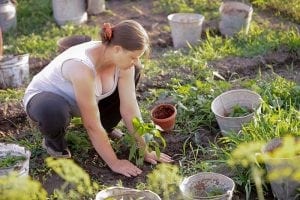 There's nothing more welcoming than a well-cared garden to greet you as you pull up to the house. Gardening has also been a suggested form of stress relief for pregnancy. However, there may be hidden dangers lurking within your otherwise beautiful garden that could harm your unborn child. Unless you keep a close eye on the sort of plants you bought or did all of the gardening yourself, you may have pesticides or herbicides residing within the foliage. Herbicides and pesticides work to attack the nervous systems of insects and can have a similar effect on young fetuses. To best protect your child, leave the gardening to someone else or ensure you are using organic products and safe planting techniques, it's also a good idea to make sure you're entirely covered before you start to work with your plants.
Take Precautions
Obviously, there are quite a few aspects to consider when involving yourself in a DIY project. With proper safety measures put into place, however, you can help turn your home into something that is baby-ready all while protecting your child. Just be sure to avoid these three projects to ensure your and your baby's best health.

Everyday You

Work and Pregnancy