Finding out that you're pregnant is a huge and exciting time. Even in the first trimester, you have a lot to do to prepare for your baby's safe arrival.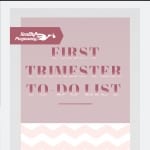 The first thing you should do when you suspect you're pregnant is to ensure that you truly are pregnant. The best way to do that is to go to the doctor and have a blood test or pregnancy test completed. You can also rely on a home pregnancy test, which is very accurate as long as you take it at the right time. Generally, a test can detect pregnancy when taken a week after your period is due. When taking a home pregnancy test, avoid drinking too many liquids prior to taking the test, because you can get a false reading. Upon learning you are in fact pregnant, there are a number of things you should do within your first trimester. Here is a simple guide to help you check off the necessities and get you well on your way to a healthy pregnancy.
1. Quit Any Unhealthy Habits
When it comes to pregnancy, a simple reminder to always keep in mind is that "if it is healthy for the mother, it's healthy for the baby" and vice versa "if it is unhealthy for the mother, it is unhealthy for the baby." Therefore, be sure to quit any unhealthy habits such as drinking, smoking, any drug use, etc. At this point, you should also try cutting down on caffeine intake.
2. Begin Taking Prenatal Vitamins
Start taking prenatal vitamins as soon as you learn you're pregnant. The sooner, the better, as the baby needs plenty of folic acid for proper development and to avoid birth defects like spina bifida. You can get prenatal vitamins prescribed by an OB-GYN or simply buy them over-the-counter.
3. Choose the Right Healthcare Provider
Next, you will have to decide whether you want to use a doctor or a midwife for your delivery. Talk to family members and friends who have given birth and ask them for recommendations. You may even want to talk to another healthcare provider to see if they recommend an obstetrician or midwife they like.
4. Schedule a Prenatal Appointment
Even though most healthcare providers won't see you for your first prenatal appointment before your eighth week of pregnancy, it's a good idea to schedule ahead of time. Be sure to make note of your last menstrual period so that the doctor can determine your due date. Ask family members on both sides about family medical history so that you have all this information to provide to the doctor at your appointment. Also, be sure to consult your doctor about any current medications you are on. For a complete list of questions to ask your doctor click here.
5. Look Into Your Health Insurance
Once you find out you're pregnant, you should know about everything that is covered in your health insurance plan in terms of prenatal care, the cost of delivery and caring for your baby. You can learn these things by contacting your health insurance company or inquiring at work about the company benefits. If you don't have insurance or if you need something better, you should look into your options immediately.
6. Consider Genetic Counseling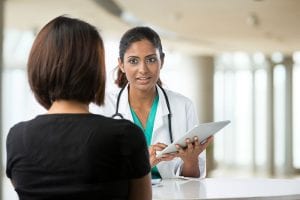 Genetic counseling can be very important for pregnant women who are 35 years of age and older. A genetic counselor is a doctor who explores your family history to determine whether there may be a risk of a genetic condition in your unborn baby. With genetic counseling, you can also undergo a variety of tests that check for conditions like Down syndrome and other chromosomal defects, as well as birth defects. There are several methods of prenatal diagnosis. One type of test is known as chorionic villus sampling or CVS, which is recommended between week 15 and 18 weeks of pregnancy, but only in exceptional cases earlier, as it carries a higher risk at this time.
7. Get Better Sleep
When you're pregnant, especially early on, it's important to get plenty of rest and as much sleep as possible. Going to bed early can greatly benefit both you and the baby. You will feel extra tired during the earliest time of your pregnancy, so you need as much sleep as you can get.
8. Change Your Diet if Necessary
During pregnancy, you should avoid eating certain foods, such as shellfish and raw fish. Cut out any type of fish that's high in mercury, unpasteurized soft cheeses and cold cuts. If you drink caffeine, it's also best to cut down and order decaf instead of your usual caffeinated coffee. Avoid drinking soda as well, especially diet options with artificial sweeteners. You should eat a good balance of fruits and vegetables, dairy and well-cooked protein.
9. Ensure That Your Activities are Pregnancy-Safe
You should only engage in pregnancy-safe activities. Some things can put your unborn baby at risk, such as using certain cleaning products or changing a cat's litter box. Only use all-natural cleaners in your home and have someone else clean the litter box if you have a cat, to avoid taxoplasmosis.
These are all important items to add to your to-do list during your first trimester of pregnancy. Once you have all of these things down, you will be on your way to a healthy, happy pregnancy.

Pregnancy Basics

Prenatal Health