The second trimester of pregnancy is an important transitory phase. If you are reading this, you have probably already reached this point or at least are drawing near. Congratulations on getting this far! At this point, your morning sickness has probably passed and your belly bump is just beginning to show. In addition, your baby will be going through very significant stages of development. Therefore, it is imperative that you create a healthy environment for your baby to thrive. In order to ensure the best second trimester experience possible for you and your baby, you must be sure to maintain a healthy pregnancy and feel confident and prepared to deal with this stage effectively. By now you have probably already made your way through the first trimester checklist. Feel free to make use of this pregnancy shopping list to help care for yourself and your baby.
For Baby
Baby clothing and necessities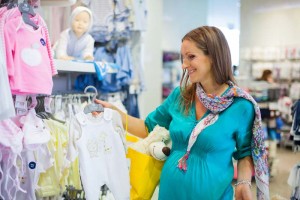 Now is the time to begin looking out for things to buy for your baby since many women don't feel like being active at the end of their pregnancy. Start shopping around for a stroller, crib, wallpaper for the nursery, baby toys and baby clothing.
For You
Your friends, family and acquaintances who do not yet know will soon begin to take notice. Look your best by stocking up with clothing fit for the occasion.
The discomfort that comes along with pregnancy can cause some women to toss and turn at night before they are finally able to fall asleep. If you did not do so yet, consider buying a body pillow, ear plugs or anything else that you feel may help you sleep better.
A glider is not only useful for nursing your little one but can also alleviate many of the discomforts that come along with being pregnant. A glider that comes along with a stool can help give swollen feet much-needed rest.
If you didn't begin to think about your child birthing options yet, start now so that you will be prepared and empowered to face the near future.
Just a few months away, you will have a dependent and helpless little bundle of joy in your arms. Learn what to do in advance and you will be healthy as a mom as well.
You will soon discover that gallivanting in high heels the entire day is not advised. Invest in a comfortable pair of walking shoes to minimize discomfort in your legs.
Support hose and support stockings
Some women will begin to feel swollen legs and varicose veins as early as the second trimester. A support hose and pairs of support stockings will help relieve the discomfort immensely. A positive attitude, knowledge and confidence are also vital for ensuring a healthy pregnancy, birth and parenthood. Those attributes can't be bought in the store but can be acquired through active preparation. You can use this list to help you get there!

Preparing for Baby


Shopping Lists