Prenatal checkups are a crucial part of ensuring that your pregnancy progresses normally. They are important for noting the health and growth of your baby.
If you are in your first pregnancy, everything is no doubt new, exciting and possibly even a bit scary. However, having prenatal checkups is a normal part of being pregnant. It's important to know what to expect so you can be prepared when you have your visits.
What Are Prenatal Checkups?
Prenatal checkups are also known as prenatal care, which is medical care you receive throughout your pregnancy. Every time you see your health-care provider, you get checked out to see how you are doing and to note the growth of your baby. The checkups also ensure that you have a healthy pregnancy and that the baby is healthy.
You should always go to every appointment no matter how you're feeling. Whether you're battling morning sickness or you feel perfectly fine, attending all of your appointments is essential. Getting prenatal care early and regularly can help you to have a healthy pregnancy and a healthy, full-term baby. A baby is considered full-term when born between 39 and 40 weeks and six days.
It's important to be open and honest with your health-care provider. Don't hold back and be sure to ask any questions on your mind as well. This helps you and your baby to have the best care. The doctor may also ask you certain questions that may be difficult to answer. However, everything is in confidence.
Who Can Provide Prenatal Care?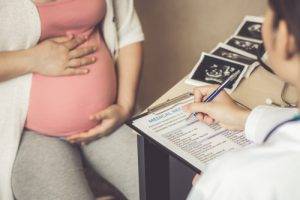 There are certain professionals who can provide prenatal care. You want to ensure that you choose someone reputable who listens to you and respects your views and feelings. Your provider can give you a wealth of information, and support and help you decide where to give birth.
The following professionals can give you prenatal care:
Obstetricians/gynecologists or OB/GYNs: OB/GYNs are specialized in providing care to pregnant women and delivering their babies. They have special training so they are skilled in the area of delivering babies via vaginal birth as well as through cesarean or C-section. If you have a high-risk pregnancy, you should consider an OB/GYN to provide your prenatal care.
Family practice doctors: A family practice doctor can provide you with prenatal care and care for your entire family no matter what age, but generally, does not perform C-sections.
Certified nurse-midwife or CNM and certified professional midwife or CPM: A midwife is ideal for women who have low-risk pregnancies. A CNM is associated with hospitals and birthing centers, while a CPM is more likely to have experience with home deliveries. Midwives are required to have a backup plan with an OB/GYN in the event of an unforeseen emergency.
How Often Do You Need to Attend Checkups?
Pregnant women are typically urged to schedule their prenatal checkups in a certain way based on trimester. This includes the following:
During weeks 4 to 28, they should attend one checkup every four weeks or once per month.
During weeks 28 to 36, they should attend one checkup every two weeks or twice per month.
During weeks 36 to 41, they should attend one checkup every week or once per week.
Women who have a high-risk pregnancy that has complications should visit their health-care provider more frequently. It's also encouraged that you bring your partner or a close family member or friend to your appointments as support.
Visits in the later trimesters of pregnancy are more frequent due to the risk of certain complications like preeclampsia. There may also be issues with the baby's growth during the third trimester, so the health-care provider will want to check your belly size and weight at that point.
What to Expect with Your First Visit
Women normally schedule their first prenatal checkups either after getting a positive home pregnancy test or even if they suspect they're pregnant. Early visits are ideal to check on the health and progress of the baby.
Most first visits take place around or after your eighth week of pregnancy. It is also the longest appointment so that information about your medical history can be gathered. You will also have to share other information regarding your family history, fertility, possible exposure to infection and mental health history.
An ultrasound is also performed to check the baby. You may be able to see or even hear your baby's heartbeat during the test.
As your pregnancy progresses, your prenatal checkups will become second nature. You and your baby will get the best care.

Pregnancy Basics

Prenatal Health