As a soon-to-be mother, there are multiple pregnancy-related symptoms that occur. One of those symptoms is an increased appetite. There are countless movies and shows with hilarious scenes of pregnant women eating pickles and ice cream, but there's some validity to pregnancy creating cravings and a greater desire to eat.
Increased appetite during pregnancy occurs for a number of reasons. For one, you're growing an infant, so you're more likely to experience vitamin and nutrient deficiencies. The pregnancy hormones also play a role in how much you'll eat.
Causes of Increased Appetite During Pregnancy
While in the uterus, babies get their growth building blocks solely from their mother. Because of this, your body needs the additional calories in order to make sure you're also getting the proper nutrition. However, this typically begins in the second trimester.
During the first trimester, women are more likely to have morning sickness. At times, this hinders a pregnant woman's ability to gain weight and properly nourish their growing baby. Typically, morning sickness passes during the second trimester, so it's a good time to eat more, especially if you're not gaining enough weight.
While most women claim "I'm eating for two," you only need a maximum of 350 more calories daily. In the third trimester, you can increase your calorie intake to 400 more calories. On average, healthy pregnant women gain up to 35 pounds, including the baby's weight.
An increased amount of hormones creates an increased appetite during pregnancy. Leptin is a hormone that correlates with metabolism and appetite. When they're raised, so is your desire to eat. Neuropeptide Y is a hormone that triggers your appetite through the hypothalamus gland, which also increases during pregnancy.
How to Maintain a Healthy Pregnancy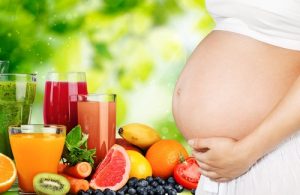 Of course, you'll naturally want to eat more food. However, it's important to make healthy decisions to avoid gaining too much weight. Since your baby also absorbs the foods you eat, you also need to make healthier food choices.
If you feel your cravings stem from a nutritional deficiency, it's best to speak to your doctor for advice on what foods to eat. Generally, it's best to split larger meals into five or six smaller meals throughout the day. Otherwise, you risk putting on excess weight and increase the likelihood of unpleasant pregnancy symptoms like heartburn.
There are some foods you should incorporate into your pregnancy diet, including:
Lean meats, which have a high protein content. Lean meats also have iron, which supports red blood cell production and brain development. Lean meats to add to your diet include skinless chicken, turkey and beef.
Fruits and vegetables, which are high in fiber and vitamins, are essential during pregnancy. Leafy green vegetables, apricots, oranges and avocados are examples of beneficial products to consume during pregnancy.
Dairy, which contains vitamin D and calcium, and supports bone, teeth, brain, and nerve development. Yogurt, milk, and cheese are excellent ways to get enough calcium and vitamin D.
In addition to the foods worth adding to your pregnancy diet, there are also some foods to avoid. For instance, seafood with high amounts of mercury is bad for a developing baby. Big eye tuna, shark, swordfish and king mackerel should be avoided during pregnancy. Fish like salmon, tilapia and cod are acceptable. However, they should be heated to at least 145 degrees Fahrenheit to kill potentially harmful bacteria.
For women that cannot get enough nutrients through their diets, speak to your doctor about taking supplements. Nutrients including folic acid, iron, vitamin D and calcium are essential for your little one's development, so if you can't get them through your diet, you'll need supplements like iron and prenatal vitamins.
Conclusion
Having an increased appetite during pregnancy is common. However, it's important to be able to tell when you're genuinely hungry and dehydrated. Getting enough fluids is just as important as eating healthy.
Between pregnancy hormones and growing a child, making healthy food choices is essential. When food cravings hit, it's best to choose foods that support the development of your child. If necessary, speak to your health-care provider about dietary changes as well as taking supplements to maintain a healthy pregnancy.

Diet

Prenatal Health