Guest author: Laurel Otey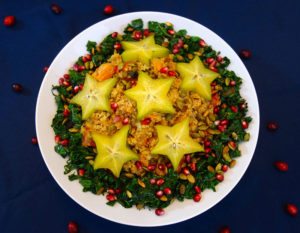 When it comes to the holidays, most festivities center around mealtime. During pregnancy, it can, at times, be difficult to find a dish that is not only tasty but packed with nutritional value and safe to eat during pregnancy. If you're looking for a healthy, pregnancy-safe side dish to add to the feast this year, here's a quinoa salad to enjoy with family or to have available when hunger strikes.
Holiday Quinoa Salad
(Serves 8)
Ingredients:
1 C quinoa
2 C chicken bone broth, store-bought or homemade (or vegetable broth or water)
3 C sweet potato, chopped into bite-sized pieces
2 large tomatoes, chopped
1/2 bunch kale or 3 large handfuls of spinach, chopped in thin strips
2 large or 3 small yellow onions, thinly sliced
1 clove of garlic, minced
1 tsp. dried rosemary
1 tsp. dried thyme
2 tbsp. lemon juice
1/2 C raw pumpkin seeds
5 tbsp. extra virgin olive oil
1 star fruit
1 C pomegranate seeds (about 1 medium pomegranate)
Sea salt & pepper to taste
Directions:
Preheat oven to 375ºF.
Peel sweet potato and chop into bite-size pieces. In a glass baking dish, toss sweet potato with 2 tablespoons olive oil, salt and pepper. Bake in the oven for 30 minutes or until soft.
Thinly slice onions. Mince garlic. Heat 2 tablespoons olive oil in a large sauté pan over medium heat. Add onions and garlic once hot. Let cook about 30 minutes, stirring occasionally until onions are soft, brown and caramelized. Remove from pan and set aside.
Meanwhile, thoroughly rinse quinoa using a fine wire mesh strainer until it stops foaming, about 1 minute.
Transfer quinoa to a medium saucepan. Add broth. Bring the pot to a boil. Then reduce heat and simmer covered for 15 minutes. Make sure all the broth has been fully absorbed. Remove from heat and set aside.
Chop greens into long, thin strips. Cook greens in same sauté pan with 1 tablespoon olive oil over medium-low heat until greens begin to wilt, about 2 minutes. Remove from heat and set aside.
Toast the pumpkin seeds in sauté pan medium heat for about 10 minutes, stirring continuously to prevent over browning. Remove from heat and set aside.
In a large mixing bowl, stir together quinoa, sweet potato, onions, thyme, rosemary, lemon juice, salt and pepper.
Chop tomatoes into bite-size pieces and stir into quinoa mixture. Add half the pomegranates and half the pumpkin seeds to quinoa and stir through.
Transfer quinoa mixture to serving large bowl.
Arrange greens around the edge of serving bowl like a wreath. Sprinkle pumpkin seeds and pomegranate seeds over greens and quinoa mixture.
Slice star fruit into thin slices (no need to remove peel or seeds). Arrange on top of quinoa mixture.
Serve hot or cold. Store covered in the fridge.
Notes:
FREE of gluten, peanuts, tree nuts, coconut, sesame, dairy, egg, soy & refined sugar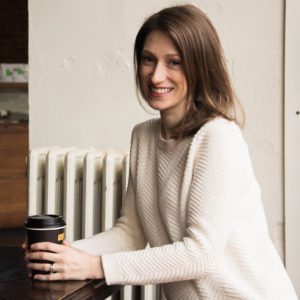 Laurel Otey is the owner of Layered Living, a certified health coaching business. Layered Living offers personalized health coaching, group workshops, recipe creation for businesses and wellness product consulting. Her inspiration for entering the world of wellness came from her own family's health journey. To start living a healthier, happier life, contact Laurel to schedule a free consultation.

Diet

Prenatal Health