Women who have been pregnant are well-aware of pregnancy cravings that are often experienced, which can range from desiring fried chicken to ice cream at all hours of the day. Although it's normal to consume more calories as you eat for two, it can be unhealthy to give into all of your cravings without any self-control. To continue indulging without going overboard, there are a few healthy alternatives to add to your pregnancy diet for your unhealthy pregnancy cravings.
Soda
Many women tend to crave carbonated beverages while they're pregnant, which can mean consuming a higher amount of calories throughout the day due to the high sugar content of soda. Diet sodas can also be unhealthy with the aspartame that it contains, which is linked to cancer and is proven to cause weight gain by triggering cravings for sugar after it's consumed. Drinking mineral water and adding in fruit or lime juice for added flavor can be enjoyed as a snack or with dinner.
Cookies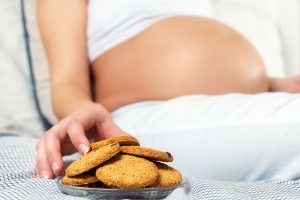 Chocolate chip cookies can be mouth-watering and make for an easy way to deal with the different pregnancy symptoms that you experience. Although they can be enjoyed in moderation, it can be challenging to limit your consumption of the classic sugary dessert. The cookie dough can also be harmful due to salmonella that it may contain when you're making the dessert. Instead of putting your health at risk, enjoy eating cinnamon graham crackers, which have a high level of flavor and less sugar with each bite. You can also reach for low-sugar cookies, which only have an average of three grams of sugar per cookie. You can even add a little peanut butter for added flavor that won't make you want to overindulge. There's plenty of room to get creative when it comes to creating healthy sweets as an alternative.
Ice Cream
One of the most common treats for women to enjoy during their pregnancy is ice cream and pickles for the sweet dessert that makes for an incredible midnight snack. This can pack on the pounds and also make you at risk of gestational diabetes if consumed on a frequent basis. Opt for eating nonfat yogurt or sorbet, which contains less fat and fewer calories. Instead of reaching for chocolate syrup or sprinkles for toppings, opt for using fresh fruit and almonds to add extra crunch and texture to your healthy dessert. Blending frozen fruit with yogurt can also be a quick fix that will curb your sugar craving at any time of the day. You can even add in a packet of Stevia to the mixture to enjoy an all-natural dessert that is guilt-free and won't pack on the pounds during your pregnancy.
Chocolate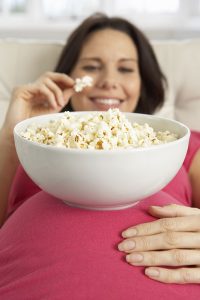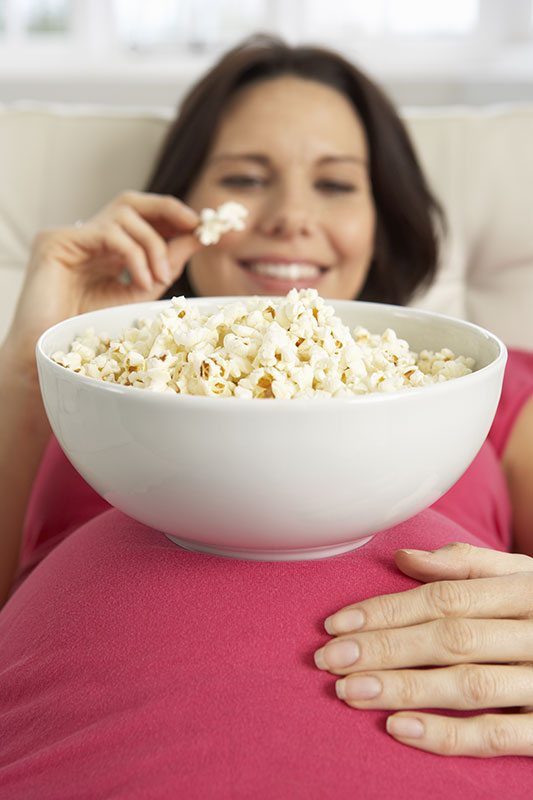 Chocolate can sound delicious when you're growing another human, which can make it easy to reach for candy bars and sugary treats throughout the day. You may enjoy overeating, but chocolate can pack on the pounds and make you crave more in your diet. Curb your appetite by consuming dark chocolate that has 70 percent cocoa, which is a healthier alternative and won't cause excessive weight gain. You can also add dried fruit and nuts for healthy fat that is beneficial to your health.
Potato Chips
If you're not craving sugar during your pregnancy, you're likely wanting salty treats that make for a delicious snack. Unfortunately, this can increase your sodium levels in the body and can affect your baby's brain and nervous system development. Opt for reaching for a healthier alternative, which includes salted air-popped popcorn. Add a touch of butter for extra flavor. It makes for a low-calorie treat that will allow you to munch on something crunchy without suffering from the guilt.

Diet

Prenatal Health