Up to 60 percent of women experience either pre- or postpartum diastasis recti, a partial or complete separation of the "six-pack" abdominal muscles, or rectus abdominis. This condition can usually go unnoticed and be painless, however for some with diastasis recti it can be uncomfortable, difficult to perform certain activities, and in some cases, even painful.
Rehab methods for diastasis recti focuses on alignment and the strengthening of the core muscles to rebuild muscle connections. Among the number of exercises, therapies and treatment options for this condition are abdominal breathing exercises, which can activate the muscles, align the body's structure and be a no impact option for new moms who are looking for exercises they can fit in throughout their busy day.
The Effects of Abdominal Breathing
The following are just a few of the breathing exercises that can improve your muscular strength and rebuild the abdominal wall so you can return to normal activities, feeling stronger than ever. While practicing these exercises it can help to touch the muscles that you are trying to engage, to create a mind-muscle connection and help achieve an even deeper engagement. Your abdominal muscles and transverse abdominal (TVA) muscles should feel tight to the touch when they are engaged.
To check for engagement of your pelvic floor, when your hand is on your lower belly, your lower belly/pelvic area should feel hard to touch. If you find that your lower belly muscles feel squishy or loose, try taking a deep breath and re-engaging your pelvic floor.
When first learning how to engage your pelvic floor, a good starting place is in a comfortable seated position in a chair or on a firm bench. If you are just starting to rehabilitate your diastasis recti, it can help to sit with your back firm against the back of a chair to help stabilize and provide support. You should not feel any back pain or discomfort when doing these breathing exercises, and should readjust your posture with leg placement distance from the chair to help ease any discomfort. Once your core begins to feel stronger, you can do these exercises without the back support and can move to other locations such as on the floor or on a fitness or birthing ball.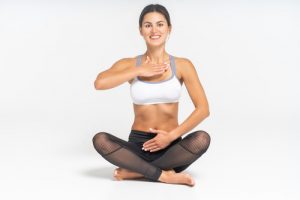 Like Kegel exercises, imagine that you are squeezing your lower muscles as though to stop the flow of urine or the passing of gas. Focus on drawing these muscles tight and inward. If you find this difficult, another way to quickly identify the pelvic floor muscles is to practice while urinating by trying to stop the flow of urine while emptying your bladder. If you can hold this for a few seconds then you are engaging the correct muscles.
For the following exercises begin by sitting up straight in a chair with both feet on the ground in front of you, and place your right hand on your ribcage and your left hand on your lower belly, below your belly button so that you may check for proper engagement during each breath cycle.
Additional Considerations
When working on breathing exercises for diastasis recti, it is important to regularly check for not only proper TVA engagement, but abdominal muscle concerns such as coning (when the center connective tissue of the abdomen protrudes outwards beyond the rest of the abdominal wall), pelvic organ/floor prolapse (referring to the prolapse or drooping of any of the pelvic floor organs), and rib cage flare (an uneven pulling or tightening of the abdominal muscles during movement which may hinder the healing of any diastasis).
While focusing on the abdominal muscles is the primary objective when recovering from diastasis recti, strengthening the glutes, lower back, and proper posture can also help to heal diastasis and build a stronger core. As you incorporate additional movements and exercises into your daily routine to target the surrounding muscle groups, be sure to begin small so as not to further damage separated abdominal muscles.
Like any injury recovery, it is vital to take things easy until you are fully healed. Avoid taking part of any high impact workouts, intense cardio or heavy and strenuous lifting until your diastasis is fully healed. During the healing process, women can tend to participate in low impact cardio, light weights, hip circle bands or small exercise balls, but depending on the severity of your diastasis recti or symptoms from it and delivery, be sure to get approval of physical exercises routines from your doctor prior to starting them to ensure they will not harm your physical health or recovery. Be sure to just keep in mind that if you push your body too hard before it is healed and ready to fully move, you can actually set your recovery back even further.
Diastasis recti may sound like a scary diagnosis, but focused routines and regular exercises as simple as breath and core engagement cycles can work wonders on recovering your abdominal muscles and building up the core strength you'll need for carrying and playing with your little one for years to come.

Postpartum Basics