When it comes to having a new baby in the house, every little cry can tend to make new parents a bit restless as they begin reviewing all the activities in the past few hours to determine the cause of baby's crying. Many times, the cause for baby's continuous bits of crying is due to a lack of sleep. Sleep plays a vital role in the development of your baby as many of the developing processes take place during this time of rest. Still, a few parents fail to identify the sleep needs of their baby.
The Advantages of a Baby Sleep Chart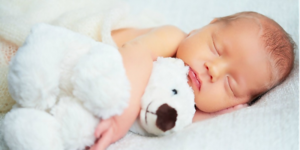 While identifying the sleep needs of a new baby may be uncertain territory for new parents, having a baby sleep chart to use as a reference can help overcome this uncertainty and help baby grow healthy and strong. A baby sleep chart is meant to serve as a guide to help parents understand how much sleep is needed for a baby to meet the sleep needs for his/her age.
While this sleep chart can be a helpful guide for new parents in determining nap and bed times, it should be understood that each baby may take a few days or even a couple weeks to adjust to a 24-hour day-night cycle in order to create regular sleeping patterns. Thus, missing the recommended sleeping hours by an hour or two is nothing to panic about. However, if baby seems to be sleeping well beyond or below the recommended levels, it can be safe to check in with a pediatrician to confirm baby's sleeping habits are at a healthy level.
As time goes by, baby will get use to staying awake in the day and sleeping at night. Parents can also make tweaks in baby's sleep routine based on the numbers of mandatory sleep hours for him/her to ensure proper sleeping habits.
Using a Journal
To ensure baby is getting enough sleep, it can be helpful for new parents to keep a journal of their baby's sleeping patterns to help track sleeping hours and habits. This can then serve as a reference to make adjustments down the road, as needed.
In addition to ensuring baby is receiving enough quality sleep, some parents struggle to get their baby to fall asleep in the first place, a problem which can be a lead contributor to disruptive sleep cycles. For those parents struggling with getting their little one to go to sleep, here are some helpful ways to ease baby to sleep and ensure they get their precious dose of sleep without any trouble.
Tips to Help Baby Fall Asleep Faster
Prior to laying your newborn down to sleep, ensure your baby is properly swaddled so that he/she can sleep comfortably without feeling unbalanced or experiencing falling sensations. Typically, newborn babies can suffer from startle reflex which wakes them in the middle of their sleep. The swaddling technique can help baby feel safe and secure and lower the chance of this occurring.
Keep to Feeding Times. Make sure you are feeding your baby adequate amounts and at proper intervals to ensure they feel full and content. Often, babies will wake from their sleep feeling hungry, which can lead to crying and disturbances in falling back to sleep, hence feeding them prior to bedtime is a good practice.
Create Eat-Wake-Sleep Cycles. We are creatures of habits and babies are no exception. Creating regular eat-wake-sleep cycles for your baby can create a proper rhythm that will help baby adjust to external triggers and also, help you in follow a timely routine to keep your sanity.
Use White Noise. If you face trouble with getting your baby to sleep on time, try using white noise to calm your baby before bed. Listening to soothing music or sounds can promote sleep by relaxing him/her from the inside and outside. Just be sure that the noise is not too loud and try not to make your baby dependent on the noise in order to sleep.
Change Baby's Diaper. Changing a diaper during your baby's sleeping times can disturb him/her and might cause him/her to wake up feeling irritated. Therefore, always check your baby's diaper before he/she falls asleep and avoid waking him/her in the middle of sleep.
Calm Down. Try to avoid exciting your baby too much before bedtime as it can keep your baby from sleeping soundly or falling asleep at all.
Go to Bed. Always try to lay your baby on the bed when he/she begins to doze and let him/her fall asleep on their own so your baby doesn't get reliant on you for sleep comfort.
A new baby becomes the parents' whole world, and every small detail of your baby affects you. Therefore, it is very crucial for you to make sure you are taking apt care of your baby's health, and ensuring baby is getting enough quality sleep is a vital start.

Baby's First Year

Postpartum Basics