For centuries women have been serving others in the childbirth process. Women who work to serve others during the birth process are called doulas. This support has been proven to not only help the labor process along, but to provide a positive impact for all those involved. 
A survey in 2012 within the U.S. found that 6 percent of birthing people used a doula during childbirth. The survey also found that out of people who did not have a doula, but knew what one was 27 percent would have liked having one.
What is a Doula?
A doula is someone who is professionally trained in childbirth, also known as a birth companion. They work to provide emotional, physical, and educational support to an expecting mother and their partners. They are trained to help during pregnancy, during labor and birth, and once the baby has arrived. They work to help women have an empowering birthing experience that is safe and memorable. 
A doula is a friend, therapist, jokester, massage therapist, or anything else that a mother needs her to be during labor. She provides encouragement or a shoulder to cry on. 
What does a Doula Do?
There are a few different types of doulas. Most doulas are birth or labor support. However, there are also antepartum doulas and postpartum doulas. Doulas are there to nurture and support the birthing person throughout the entire process. They provide continuous support to the mother, regardless of what decisions the mother makes and how she gives birth. However, doulas are particularly helpful when it comes to natural childbirth. 
Here are some things that doulas provide birthing mothers : 
Physical Support –  They help the birthing person to maintain a sense of comfort, control, and confidence. They might help in some of the following ways: 

Helping to create a calm environment, dimmed lights and curtains
Apply warmth or cold
Soothing touch through counter pressure, massage, or a rebozo
Providing ice chips, food, and drinks

Emotional Support – The doula helps the birthing person feel cared for and a sense of empowerment after the birth. They are there to help provide a positive birth environment and memories. They might do this by some of the following ways:

Encouragement
Reassurance
Praise
Continuous presence 
Helping the birthing person and partner through worries, fears, or self doubt

Advocacy – The doula primary responsibility is to maintain the wishes of the birthing mother, not the hospital, nurse, or doctor. They are a birthing mother's biggest advocate. 

They support the mother and partner by whatever they need in this process. They can help in the following ways: supporting the birthing person's decisions, encouraging the birthing person to ask questions and verbalize preferences, help to prevent procedures occuring during the birth without the birth person's knowledge, and keeping space with visiting friends and family if the birthing person wishes space.

Informational Support – The doula will help keep the birthing person and partner informed of what is happening throughout the process. They can provide them with knowledge on the options that may arise throughout the process. 

This could be suggesting techniques for labor such as breathing, positions, and movement. They can help the partner to understand what is going on with their loved one's labor as it is occurring. 
What are the Benefits of Having a Doula?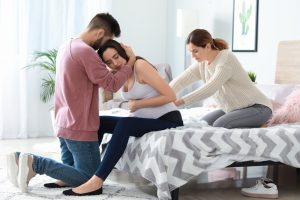 A doula is there to help make the entire birthing process easier for both the birthing person and their partner. Studies show that with the support of a doula, women are less likely to have pain-relief medications administered and less likely to have a cesarean birth by 50 percent. The length of labor is reduced by 25 percent, the use of oxytocin by 40 percent and the requests for an epidural are lessened by 60 percent when using a doula. Women who hire a doula, have been found to have a more positive childbirth experience overall. 
Natural Birth and a Doula
People who have received continuous support from a doula throughout their pregnancy and labor were more likely to have spontaneous vaginal births. They are overall less likely to have pain medication, epidurals, negative feelings about childbirth, caesareans, and vacuum or forceps-assisted births. Labors were also found to be an average of 41 minutes shorter. These are all especially helpful when it comes to wanting a natural birth. 
A doula can help to remind you and keep you focused on your goals and wishes throughout the process. They will help you to overcome any fears that you might have and to help you feel more comfortable during contractions. This same study found a 31 percent decrease in the risk of being dissatisfied with their birth experience. 
What a Doula Does Not Do
Doulas are not medical professionals and do not provide medical advice. They will not perform medical tasks such as cervical exams, monitoring the baby's heart rate or checking your blood pressure. 
It is not a doula's place to judge or criticize a mother's wishes. They do not take shifts such as nurses or doctors do, instead they are continuously with a mother in labor without leaving or sleeping.  Their only focus during this time is that of the birthing mother and their partner. 
They are not there to replace the birthing partner or father. Doulas are there to help support both parties throughout the process. They can step in if the father or partner needs a break and help to provide them with suggestions on how to help the birthing mother feel more comfortable. 
The Cost of a Doula
When it comes to the cost of a doula, this can vary greatly depending on where you live. It is possible to find doulas that are working towards their certification that offer discounted services or free rates. The general rate for a doula is around $400-1000. This can vary depending on the amount of time you book for the doula for, if they offer postpartum hours, and if they offer time before labor as well.  When you break it down most doulas make around $10-15 an hour for their time. 
More often than not, insurance does not cover the cost of a doula. However, there are a few that do. While this may seem like a large cost at once, some doulas can work with the family on a payment plan. 

Delivery

Pregnancy Basics