Babies are classified as premature, or preterm, when they are born at 37 weeks gestation or sooner. Prematurity is measured by degree by using multiple methods. There are also, a few risk factors to be aware of.
Full-term gestation is considered to be between 37 to 40 weeks of pregnancy. Factors that are used to measure the degree of prematurity are gestational age and weight.
Gestational Age
A preterm infant will fall under one of four categories:
Extremely Premature – An extremely premature infant is born at 23 to 28 weeks.
Very Premature – A very premature infant is born between 28 and 32 weeks.
Moderately Premature – At 32 to 34 weeks, an infant is classified as moderately premature.
Late Preterm – A late preterm infant is born between 34 and 37 weeks.
Calculated from the first day of the mother's last menstrual period, gestational age is important. The degree of prematurity will determine how developed an infant is at birth. It gives medical staff an idea of the types of medical support the infant might need at birth and immediately thereafter. Infants born at 32 weeks, for example, often need help breathing because the lungs are not fully developed.
Birth Weight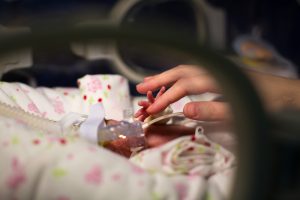 Low birth weight is the second measure of prematurity, used in conjunction with gestational age. An infant has low birth weight if he or she weighs less than 5.5 pounds at birth. During the last few weeks of pregnancy, the infant's weight increases substantially. At 37 weeks, the average weight is 6.3 pounds, while weight by 40 weeks averages 7.6 pounds. Premature infants do not have this extra time to gain weight.
Prematurity Risks
Although many cases of premature birth do not have a known cause, there are some risk factors that can lead to an early birth. If the mother has had a previous premature birth or pregnancy with multiple infants, the risk is greater. Certain medical issues can increase the risk, such as pre-eclampsia and diabetes. Other conditions that increase risks include poor prenatal care, excessive stress, physical trauma, and drug or alcohol use.
What to Expect
The longer an infant can stay in the uterus, the longer he or she has to develop. Premature infants can require a variety of medical help, depending on gestational age at birth and level of development. If infants are born before 36 weeks, their lungs are not fully developed; they will need help to breathe and protection against respiratory complications, such as pneumonia. Prematurity can also cause susceptibility to infection and an inability to maintain body heat. Some premature infants will not be able to suckle and must be fed through a tube inserted into the gastrointestinal tract.
Most premature infants will continue to grow normally after birth. Depending on the degree of prematurity, it can take pre-term infants a little time to catch up and reach age-appropriate milestones. Growth and development are measured based on the birth due date, not the day of the infant's birth. Generally, a premature infant will begin to reach expected milestones by two years of age.

Baby's First Year

Postpartum Basics