While you may be on the fence about finding out baby's gender, revealing baby's gender can be a magical-feeling. For many couples it is cause for celebration and the perfect occasion to share the excitement with close friends and family by throwing a reveal party. While you may have a reveal party idea in mind, here are a few helpful tips and considerations to keep in mind when planning your revel party, regardless of how big or small your plans.
Plan Your Ultrasound
It may seem like a no-brainer, but to host a gender reveal party, you will need to get an ultrasound technician to disclose if baby is a girl or a boy. This ultrasound can typically be obtained during the second trimester, around 18-20 weeks. If you are looking to be surprised yourself, you can request that the technician or physician write the baby's sex on a piece of paper or on the ultrasound itself and slip it into a sealed envelope for you to take home after your checkup.
Choose Who Will Get Surprised
Once you get your ultrasound done and have your baby's gender hidden away inside an envelope, choose who in your social circle will be invited to be surprised at the party, this can be only your guests or you and your guests. If you wish to save the surprise for just your guests, then rip open that surprise envelope or bask in the joy of having your ultrasound technician or doctor tell you the gender during your ultrasound visit.
Pick a Date, Time, and Venue
When choosing a date for your gender reveal party, it's advised to avoid picking a date immediately after having the ultrasound. The reason for this is that if your baby's position is incorrect at the time of the ultrasound, the ultrasound may not expose the baby's gender, leaving you in the dark until your next ultrasound visit. To avoid this, plan on scheduling a party once your ultrasound is held, so you can rest assured you have the gender ready to reveal. Where you plan to hold the event for revealing baby's gender is up to you. Depending on the number of invitees, a friend or family member's house, your house, a park, or a leased venue all work. Your venue should also accommodate any activities you may be planning if they incorporate above-and-beyond events such as pyrotechnics, sparklers, balloons, etc.
Create a Theme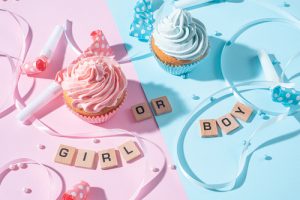 Before finalizing and sending the invitations, you may want to pick a theme for your gender reveal party. This way, you can integrate the theme into the invitations. Remember, it's your party, so go with anything that pleases you! If your style is simple, go with blue and pink and deck the decorations out in both colors. If you want a unique themed event, consider any clever and catchy titles such as:
Ties or tutus
Team boy/team girl
Prince/princess
Quarterback or cheerleader
Lashes or staches
What will it bee?
Send Invitations
Send the invitations roughly four to six weeks prior to the party date. You can send electronic invitations or stamped cards. Either way, ensure you include all the details your guests will need and a way of submitting an RSVP. Depending on the people you plan to invite, it might be helpful to include a brief explanation of what a reveal party means or what you plan to do at yours. Since revealing baby's gender is quite a new tradition, some of your older invitees might not have heard about the trend or experienced one on their own. In the invitation, inform your guests if they'll have to wear something special to incorporate the theme or their guess for baby's gender.
Revealing Baby's Gender
There are countless ways you can spill the beans about baby's gender, some couples choose to reveal their baby's gender with a sweet treat, like a cupcake or a cake, while other's choose more unique ways to share the pink or blue surprise color. Regardless of how you choose to display the actual gender reveal, some forethought will be needed to set up the details. Whether it's taking your sealed envelope from your sonographer to a bakery and ordering either a pink or blue filled cake with a neutral color on the outside, like brown (chocolate) or white (vanilla), or having a single designated friend be the one to take a peek at the gender to organize color-matched confetti-filled balloons, pink or blue smoke bombs, or gender colored paint balls, keep in mind who you trust having and holding onto the secret until the day of your event. This designated person will be in charge of heading up the reveal details that pertain to the pink or blue hidden details and keeping the secret under wraps from everyone, including yourself.
Consider Additional Entertainment
Yes, finding out if you're having a boy or girl is the ultimate surprise, but why not include some additional fun for your guests. For example, as your guests arrive, ask them to write their names on a piece of paper and put it in a jar marked "boy" or "girl" based upon what they think baby will be. Then, based on your baby's gender, pick one name from the "correct jar" and reward the winner a fun surprise. Sure, the extra perk is unnecessary but who doesn't enjoy a game, and winning prizes?!
If you're looking to keep things simple, consider combining your gender reveal party with your baby shower so your friends and family don't feel pressured to buy another event gift or attend an additional event.
Thank Your Guests
While this may seem like an obvious detail, it's one that can go ignored. When the party ends, thank your guests for showing up. You can express your gratitude by offering them a special treat as a parting gift, following up with written thank you cards, or sharing a custom thank you with photos from your gender reveal party. Regardless of how you do it, express gratitude to those who shared in your excitement for your upcoming new family member.
Things to Consider When Organizing a Reveal Party
Sure it may seem like all fun and games, but here are a few things to consider before you throw a gender reveal party.
Occasionally, ultrasound technicians may not have the ability to determine your baby's gender with 100 percent confidence. The baby's position, body size, gestational stage, and amniotic fluid levels can affect the results. As previously mentioned, don't schedule the party until you have a solid confirmation from an ultrasound.
Stay safe. We all love the big extravagant gestures and awe-inspiring moments, but keep in mind that smoke bombs, fireworks, explosives, etc. can be dangerous to not only the individuals involved in the reveal but to the surrounding environment (case in point, the Eldorado Fire in California in 2020 was sparked by a gender reveal smoke bomb which ultimately led to the burning of over 22,000 acres across California, the injury of two firefighters and the death of one firefighter.)
Think about how you'll react after receiving the news. Do you have your heart set on a boy or girl? Believe it or not, some couples become very disappointed after finding out the gender in the ultrasound room. Keep in mind that regardless of your reaction, your guests will forever keep records of your response to the big reveal.
Be aware of your surroundings and local ordinances. If you're using any explosive element, make sure you are not only aware of safety guidelines but that you are in an open area that is clear of structures, trees, shrubs, debris, animals, pets, and other people. Also, be mindful of your neighbors and any wildlife in the area if you're planning on having loud noises or will have a lot of cars from guests parked.

Preparing for Baby