When you're pregnant, getting enough calcium is essential. There are plenty of ways you can incorporate more calcium in your prenatal diet.
You must get the right intake of certain vitamins, minerals and nutrients during pregnancy. These are important not just for your health but for the health of your developing baby as well. Calcium is one of the most important minerals you both need as it's responsible for strong, healthy bones, contraction of muscle and proper functioning of hormones and enzymes. You can add more calcium in your prenatal diet to ensure that you and your baby get the right amounts.
How Does Calcium Metabolize During Pregnancy?
Naturally, during pregnancy, your body goes through a variety of changes. Those changes are important in supporting your developing baby. However, they also affect the metabolism of calcium, which means that your regular intake may not be enough. Your calcium levels become ionized, and the intestines may increasingly absorb the calcium you consume. It's also more frequently eliminated through urination. Your growing baby's skeleton contains around 20 to 30 grams of calcium, which makes it essential to get more calcium in your prenatal diet.
More Calcium Reduces Preeclampsia and Other Problems
A higher intake of calcium in the prenatal diet can benefit moms in addition to benefiting their babies. According to studies of pregnant women in Guatemala and Ethiopia, high levels of calcium intake resulted in a much lower risk of preeclampsia, a dangerous high blood pressure condition.
Another study performed in North India saw that two grams of elemental calcium given to pregnant women reduced their risk of developing preeclampsia by around 67 percent. This same study showed that more calcium can reduce the risk of preterm delivery and low birth weight, hemorrhage after giving birth and osteoporosis.
How Can You Incorporate More Calcium in Your Prenatal Diet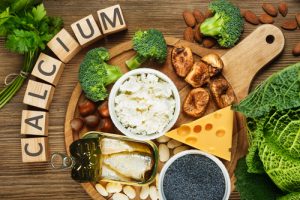 You can take calcium tablets to increase your calcium intake. However, you can also add the following options to your daily diet:
Cook rice, noodles and cereals using milk
Add milk powder to pasta, sauces and soups
Eat plenty of butter, sour cream and yogurt
Eat low-fat cheese, including grated cheese you can add to your salads, soups, sandwiches, meat and veggies
Drink a glass of cow's milk with meals
Add milk to your tea and coffee
Eat snacks that include low-fat cheese
You can also enjoy some calcium-rich dishes during your pregnancy. These are not only healthy but yummy as well. Here are a few scrumptious ideas for adding more calcium in your prenatal diet:
When you have enough calcium in your prenatal diet, you and your baby will both be better off for it.

Diet

Prenatal Health