If you need a fun pregnancy announcement this Halloween, we have come up with cute ways to let your friends and family know about your impending arrival.
As we know, the days of picking up the phone and saying "I'm pregnant!" are long gone. Keep reading for some fun ways to announce your new bundle of joy!
Use Pumpkins and the Following Ideas To Take Pictures
Take a photo of you and your partner holding up a mini pumpkin and a blackboard which states, "Our new little pumpkin is arriving on June 5th!"
Get two large pumpkins. Write "Daddy" on one. On the other, write "Mommy." Hollow the insides of the "Mommy" Pumpkin. On the front, carve a heart. Inside, rather than inserting a candle, insert a mini pumpkin that says "Baby #1." If it is baby #2, #3, etc., write the corresponding number on the mini pumpkin. Write you other children's names on other mini pumpkins and put them in front of the "Mommy" and "Daddy" pumpkins.
Go to a pumpkin patch and have you and your partner pose in front of a display of pumpkins. Have the mom hold a pumpkin with "Mommy" written on it and the dad hold a pumpkin with "Daddy" written on it. Next to the couple place a small pumpkin with the words "arriving on…" and add the baby's due date. If you have other children, incorporate them into the picture by having them hold pumpkins with their names as well.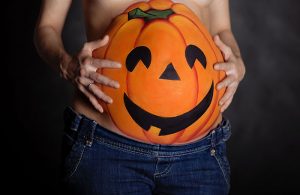 Have the expecting mom and dad dress up in their Halloween costumes. Have one of them hold a pumpkin, and the other holds a sign that says "No Trick! Our Treat is Due!"
Use Costumes to Create A Pregnancy Announcement
Try the "Bun in the Oven" costume. Whether you choose to make it yourself or purchase one, this costume is sure to be a hit. With a large box that fits over the mother-to-be's head and comes to above her knees, cut a hole for the head and two holes for the arms. Cut out the bottom of the box so she can slip it over her head and wear it like a shirt. Either draw an oven door on the front, with a clear picture of a bun baking inside or cut an "oven door" in the box to reveal the baby bump. For added effect, the father to be can wear a chef's hat and an apron that says "I'm the bun baker." Whether you wear this to a costume party, or simply take a photo and upload it to social media, it is a pregnancy announcement that your friends and family won't be forgetting!
Perhaps you'd like to try a celebrity favorite. Dress up like a mummy, upload your photo to social media, and use the caption "Surprise! I'm going to be a Mummy!"
Try buying a doll at a dollar store, or somewhere else inexpensive. Glue the doll's arms to a t-shirt as if they were the baby's arms reaching out from the pregnant mom's belly. Use red fabric paint to create blood splotches. Take a picture of the mom to be wearing the shirt.
Find a fun T-shirt for the mom to be to wear. Perhaps even make one, such as a shirt with tiny handprints and the words "Let Me Out" appearing as if the baby is trying to break out of the belly.
Halloween is a fun time to announce your pregnancy, whether you are going to do it in person, at a Halloween party or on social media. Have fun with the above ideas, and don't forget to take pictures of everyone's shocked and happy reaction!
Looking for a fun, yet simple image to share with friends or decorate to post to social media? Here are a few free signs you can print and customize, cut out, decorate or share on social media to make your big announcement!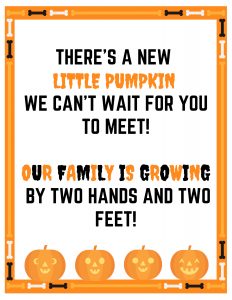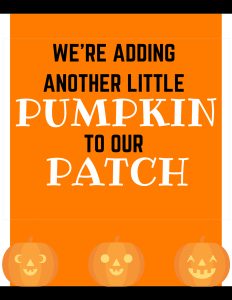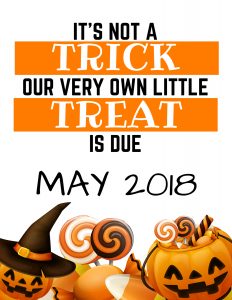 DIY Projects

Preparing for Baby