For breastfeeding women, a number of things can make the experience a challenge, but one issue is infection-based and can make the process of breastfeeding undesirable if not treated properly. Mastitis is an infection that occurs during the breastfeeding period which results in swollen, red, tender or warm breasts, and severe fever.
Mastitis is caused by an infection in the tissue of one or both of the mammary glands in the breasts. It is estimated that nearly 10 percent of all breastfeeding women in the US acquire this infection while breastfeeding. While painful, mastitis is treatable and many women can continue breastfeeding after proper treatment with no future issues.
Mastitis vs Milk Stasis
In most cases, the primary cause of mastitis is due to blocked or plugged milk ducts, or milk stasis, the result of milk remaining in the breast after nursing. Milk stasis can be caused by a number of factors including; a baby not properly attaching the breast while feeding, resulting in milk not being removed from the breast enough; infrequent or skipped feedings; favoring one breast for feeding over the other; stress; poor diet; an oversupply of breast milk; abrupt weaning; or damage to the milk duct from strong force or pressure to the breast.
Although both milk stasis and mastitis sound similar, milk stasis inflammation can occur with or without infection. When no infection is present, it is referred to as milk stasis. However, once infection occurs, it results in diagnosed mastitis. If no bacterial infection is present, symptoms of milk stasis can often clear on their own after only a couple of days.
Mastitis Symptoms and Diagnosis.
If infection is present and mastitis occurs. The breast swells due to inflammation of breast tissue near the infection. As a result, the breast may be warm to the touch, tender and even appear red in color. In addition to the physical symptoms that appear on the infected breast, additional symptoms can include flu-like symptoms, fever, increased sodium levels, or lumpy breast milk.
If symptoms do not clear up on their own after a couple days, contacting your doctor is the best option as a physical exam can confirm a mastitis diagnosis.
Treatment Options for Mastitis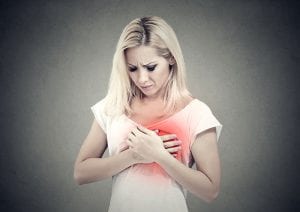 While a doctor can prescribe antibiotics or other medications to help with infection and discomfort, there are various treatments that can be done at home. The key is to act immediately, to ensure milk continues to flow and reduces the chance of engorgement.
Empty the Breast.
Continue to breastfeed as often as possible to empty the affected breast, don't forget to equally drain both breasts, even if only one is affected. If breastfeeding is too painful, resort to hand express or the use of a breast pump until some pressure is relieved.
Heat and Ice.
Moderate heat placed on the breast prior to breastfeeding can help with some pain relief while feeding. To relieve pain and swelling between feedings, apply a cold pack or cold compress to sore or red areas for up to 20 minutes at a time.
Check Feeding Positions.
While breastfeeding, be sure that baby is latching properly to ensure a proper supply of milk is being released. Also be sure to change feeding positions often.
Mild Pain Killers.
Compatible anti-inflammatory medications can help aid with pain management and reduce inflammation. If you are unsure which medications are safe while breastfeeding, be sure to contact your doctor for recommendations.
Avoid Pressure.
If discomfort is present, ditch the bra or wear a loose-fitting bra. For comfort, going braless will ease pressure off the affected breast. Avoid putting extra pressure on the breast by avoiding laying on your stomach or letting baby rest on your chest, as this applied pressure can further irritate inflammation and cause more discomfort.
Rest.
Because mastitis is an infection that can have unwanted flu-like symptoms, it is vital that proper rest is achieved and a healthy balanced diet and proper hydration is maintained.
If no improvement is made after one or two days with this at-home treatment plan, be sure to contact your doctor.
Preventing Mastitis
While mastitis cannot always be 100 percent avoided, there are measures that can be taken to prevent its onset.
– Avoid wearing tight shirts, poor-fitting bras, or wearing diaper bag straps across the breast that add an excess amount of pressure to your breasts.
– Be sure to breastfeed frequently and ensure that baby is in a comfortable and complete latch. Avoid detaching baby during feeding and change feeding positions regularly.
– Feed or pump at the first sign of engorgement to prevent ducts from blocking. Some mothers like to wait until their breasts are full to nurse their baby. This shouldn't be the case. Hand press or pump a small amount of milk if your breasts are full or hard between feeding sessions.
– Apply heat to the breasts before feeding.
– Seek help when your baby has a problem with nursing. Find out in the early stages of breastfeeding if the baby is nursing properly. If you are unsure, seek guidance from your doctor or a lactation consultant for assistance.
Effects of Mastitis on Baby
While mastitis is uncomfortable for mom, the good news is that it won't hurt your baby. It can however, affect your milk supply and limit the amount of milk that baby receives.
Recurring Mastitis
While not all women have reoccurring mastitis, in some instances, mastitis can continue to appear throughout breastfeeding. Risk factors for recurrent mastitis include; incomplete treatment of a previous infection, a previous history of mastitis, limiting feedings, recurring blocked ducts, previous breast surgery, or maternal anemia or elevated stress levels.
Often times, doctors recommend antibiotic treatment to prevent recurrent mastitis and regular monitoring and checkups with a doctor.
Breastfeeding is a wonderful source of complete nutrition for a newborn, but like all aspects of the pregnancy journey it's not without its risks. The key to treating mastitis or milk stasis is to not delay treatment options if it occurs. If mastitis is left untreated, additional risks can occur that may result in a breast abscess and the need for surgery or aspiration to drain the breast. Be sure to consult your doctor if you have any symptoms of mastitis during breastfeeding and continue to take preventative measures.

Breastfeeding

Postpartum Basics