Pregnancy can be scary, especially when new changes arise. Excessive sneezing, is one common pregnancy change that, while annoying, isn't something to alarm you. Here is a look at what causes this odd symptom how to alleviate the discomfort.
When you become pregnant, it seems like suddenly everything is a red flag. Everything about your lifestyle, from the food you eat to the way you workout is under scrutiny for how it may affect your developing baby. All the extra attention to those details may cause you to worry about some of the new habits your body forms during this period of your life. Excessive congestion may be one of the many changes you encounter, and you may be worried about the repercussions to your little one.
Causes
Like so many other pregnancy symptoms, some of the main causes of this occurrence can be attributed to hormonal shifts during pregnancy. Your pregnant body causes a gradual surge of estrogen that peaks during your third trimester. This hormone is responsible for things like morning sickness, milk production, and improved circulation and development of your little one. It's this increased blood flow in particular that causes some of the nasal congestion and subsequent sneezing during pregnancy as your body attempts to maintain clear airways.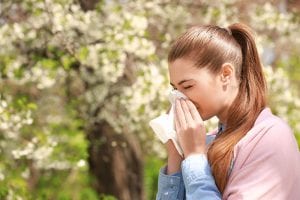 Some other issues that can potentiate this are illness and allergies. These things are not likely to stop just because your body is preoccupied with growing a baby. Women who are pregnant can expect a decreased immune system, meaning they are more at risk of contracting even a simple cold. Their recovery time may also be prolonged and can contribute to excess clearing of the airways.
Remedies
If you suspect that you may be experiencing allergies or illness, then it is best to see your doctor prior to taking any over the counter medications. The medicines that may have helped you previously may not be suitable for you now as they can potentially cross the placenta and cause harm to your baby. They may also be excreted in breast milk and cause issues. Your doctor can recommend safe medications along with simple things you can do at home to alleviate some of the discomforts. Common remedies for this include the use of a humidifier and a saline nasal spray. You should also make sure you are taking your daily multivitamin and eating a balanced diet rich in nutrients.
It's important to know that you should see your doctor if any other symptoms develop as this could mean the start of something more serious. Be sure to report any fever, difficulty breathing, and any severe headaches or blurry vision.
As you can see, excess sneezing is really more harmless than you may have initially thought. The hormones your body is producing in order to support a healthy baby and delivery can also have unanticipated side effects. These can usually be dealt with easily at home, but a doctor should be consulted if you aren't receiving any relief or if you just have concerns.

Everyday You

Pregnancy Basics

Symptoms and Changes