As an expectant mother, there is probably no shortage of things that you've been warned about, like the dangers of smoking or drinking while pregnant. But there is something else you should aim to avoid, at least until you've given birth, and that is sucrose (sugar).
Sugar can Negatively Affect the Unborn Child
According to a study conducted by the American Journal of Preventive Medicine, a medical journal covering research in preventive medicine and public health, women who consume large quantities of sucrose while expecting may be jeopardizing their baby's health, especially when it comes to cognitive development. It's also worth noting that the study concluded that women who consumed large amounts of artificial sweeteners were also putting the health of their babies at risk.
Why Fruit Juice And Water May Be Better Alternatives
If you're pregnant, it may be a good idea to replace sodas with water or natural fruit juice; to help better contextualize this statement, the average can of soda contains 39 grams of sugar whereas a glass of natural fruit juice contains 23 grams. As far as water is concerned, it is the best option since it contains zero sugars. And as noted previously, diet drinks containing artificial sweeteners like sucralose or aspartame are not viable alternatives. Although abstaining from sugary drinks and foods may seem like a tremendous sacrifice, it will benefit the unborn child as well as the expectant mother.
Understanding Sucrose And Cognitive Development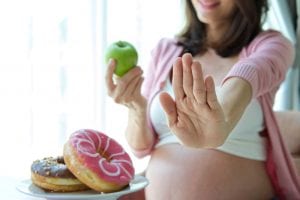 Now that we have a surface level understanding of sugar and the risks associated with it, let's take a closer look at the information detailed in the study conducted by the American Journal of Preventive Medicine. What exactly constitutes impaired cognitive function and how is it related to sugar consumption? Well, according to the study results, there is an established correlation between a child's ability to retain, recall and process information if the mother consumes a lot of sugary products while pregnant. Conversely, the study showed that pregnant women who substituted sugary drinks with fruit and fructose gave birth to babies who had above average cognitive scores.
Early Childhood and Sugary Drinks
While your current focus should be on not consuming sugary drinks while pregnant, they should also be limited during early childhood as well. It's been shown that very young children who consumed non-sugary drinks had higher receptive vocabulary scores than those who did. Similar findings were also reported amongst mid-childhood aged children with most displaying better visual-motor abilities and higher verbal intelligence when compared to children who consumed large amounts of sugary drinks.
Overall
It is worth noting that these studies were based on large consumptions of sugary drinks; that said, an occasional soft drink or other sweets should be fine. Nonetheless, if you are an expectant mother, you should be mindful of how much  and fructose you are consuming while pregnant, not to mention the sugary drinks that you give to your young children.

Diet

Prenatal Health