Expectant mothers often find themselves struggling to maintain their lifelong friendships during their pregnancy. Here's how to reclaim them.
The life-altering changes that occur while embarking on parenthood do not always wait until the baby is actually here. Many women find that being the first to become pregnant in their peer circle can result in feeling isolated and insecure about even their most valued friendships. Announcing that you're expecting has a tendency to bring out emotions from all parties involved, not limited to just immediate family. Finding ways to maintain your friendships throughout the journey of motherhood can be a challenge, but there are fortunately many tips that can help you preserve these treasured friendships.
Work to Maintain Lines of Communication During Your Pregnancy
Communication is perhaps the most impactful way to uphold genuine interpersonal relationships, especially during substantial life changes. Instead of allowing yourself to gradually grow apart from your longtime friends, actively work on addressing feelings of disconnection in order to remedy the situation. Lines of communication should always be formed equally with empathy and nurturing, meaning that you show empathy towards the other party while also getting the nurturing that you seek.
This sense of balance will help ensure that the needs of both parties are met, and that the friendship does not becoming diluted over time. Taking the time to actively communicate with your friends while you're expecting will also help them process your transition into actual parenthood once the baby is here.
Be Honest About Lingering Concerns
If you sense that your friend is having some trouble processing your pregnancy, vocalize any unsettling feelings you may have so that you can effectively work them out together. Studies have shown that when someone doesn't speak out, it typically relates to a lack of boundaries in interpersonal relationships. This is why it is imperative to address any present tension in order to retain the strength of the friendship.
It isn't uncommon for other women to feel naturally uncomfortable, disappointed or even envious when one of their friends is going through major life changes that they haven't yet reached. These emotional responses are completely normal to experience, and addressing them from a place of understanding can help you both work through them successfully.
You may also find that you're having your own struggles with how being pregnant is impacting the feelings that you have about certain friends. Some women find themselves feeling left out when they are unable to attend the same weekly outings, as well as facing the inability to participate in all of the social activities that they love. This can certainly put a strain on a relationship that had already been established when you weren't under the same restrictions. Discussing these feelings of discontentment with your friends in a neutral manner will allow them to empathize with your situation, and hopefully can provide you with a solution.
Remind Yourself to Stay Patient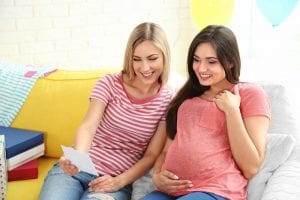 It is easy to get wrapped up in our own exciting happenings when preparing for parenthood, forgetting that others have their own lives to tend to as well. According to the Bureau of Labor Statistics, over 11 million Americans work more than 59 hours a week. This alone shows how busy some adults are in carrying on with their own individual lives.
We may be anxious to receive reassurance and celebratory responses from our friends during the important milestones of expecting, but it is important to remain rational about what they can actually give us. Having a consistent amount of patience with your friends will show them that you are just as respectful of their obligations and life events, while also helping you maintain realistic expectations.
Expecting your first child does not mean that you have to say goodbye to the friendships that you cherish. After all, these friends have likely been by your side through every other life-changing event thus far. Becoming pregnant is sure to introduce some changes within your interpersonal relationships, and many will turn out to be more challenging than rewarding at times. Fortunately, by putting forth an effort through these techniques, you and your friends are sure to overcome any hurdles that appear throughout pregnancy and beyond.

Relationships and Sex