Though pregnancy is a beautiful, life-changing experience, it is also a phase of life in which we have to be super cautious of the activities that we partake in as well as the products we use. Every "mommy to be" desires to have a healthy bundle of joy, so we must temporarily replace many of our beauty products with those that are more "baby-friendly," this too includes sunscreen.
Many of us have been advised to either stay away from sunscreens are even avoid the sun all together. Please ignore this half-baked advice. Pregnancy does not make you exempt from reaping all the amazing benefits via sunshine, and there are many sunscreen products that will protect both your skin and your unborn baby while you sunbathe.
How the Sun Can Influence Your Pregnancy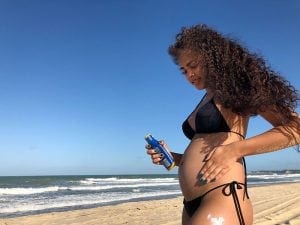 As you may already know, the sun emits Ultraviolet Radiation, or UV rays. An increased amount of UV exposure puts you in a greater risk for skin cancer, wrinkles, hyperpigmentation, aged skin cells, and even damaged DNA. Though these risks are objects of concern for everybody, expecting women should be extremely careful as the increased hormone levels during pregnancy can cause the skin to become more sensitive than normal, and elevated core temperatures have been known to cause birth defects.
Which Ingredients To Be Aware Of
Sunscreen is a big 'yes' during pregnancy, but there are some products that you should steer clear of. Over half of the sunscreen products on the market contain retinyl palmitate and the active ingredient oxybenzone – avoid these at all cost.
Retinyl palmitate (also called retinyl acetate, retinyl linoleate, and retinol) is a form of vitamin A commonly used in many beauty products as it is believed to slow down aging of the skin. Whether this is factual or just another marketing strategy, retinyl palmitate has been linked to birth defects and even to quicken the development of skin lesions and tumors while in sunlight.
While researchers are unsure as to how risky the chemical oxybenzone is, it can possibly disrupt the body's hormone levels, and cause allergic reactions and cell damage. Oxybenzone is also not only linked to being the cause of low birth weight in baby girls, but it is also a "penetration enhancer" which helps other chemicals penetrate the skin. It is much safer to choose a sunscreen containing Titanium Dioxide or Zinc Oxide as its base. These mineral sunscreens are hypoallergenic and sit on top of the skin versus being absorbed within the bloodstream.
Let's Talk Numbers
High SPF levels have a reputation for making the consumer feel more protected than they actually are, but don't let the numbers fool you. The truth is, manufacturers label products as SPF 100 and above as a marketing technique. In fact, according to the Skin Cancer Foundation, SPF 30 blocks 97 percent of the UVB rays while SPF 50 blocks 98 percent, and The Environmental Working Group (EWG) advises against using most products rated greater than 50 as they are believed to be of a poorer quality. To be safe, you should probably use SPF 30 at least and reapply once every two hours.
Rub Or Spray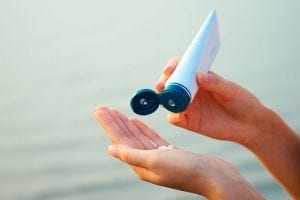 To avoid the hot and heavy "greasy" feeling that creams and lotions may cause, you may choose to go the spray route. But although spraying yourself down may seem more convenient, it may potentially pose a dangerous health threat. The inhalation of Titanium Dioxide in large amounts has been reported as possibly carcinogenic. Experts urge consumers to especially avoid applying these types of sunscreens on both children and pregnant women. Additionally, it is also difficult to determine whether or not you have sprayed enough to actually protect the skin, so it is best to just choose a lotion or cream.
Additional Tips
Skip out on sunscreens that include insect repellents as it weakens the formula. Also, be aware that the sun is at its strongest between the hours of 10am and 4pm. It may be safer to schedule your sunbathing sessions around that period. For additional support, try wearing large hats and sunglasses to protect your eyes from UV damage. Lastly, remember to be smart and read your labels!

Beauty

Everyday You

Pregnancy Basics