Heart palpitations that occur during pregnancy are typically not a cause for concern and can most likely be managed.
In this brief blog post, topics such as the definition of palpitations, the reasons pregnant women might be afflicted with this medical condition and possible treatment options will be discussed.
What Are Heart Palpitations?
Heart palpitations are categorized as abnormal actions executed by an impacted individual's heart. An afflicted person might experience manifestations such as pounding, a hard pulse, an exceedingly fast heart rate or the sensation that the heart is "skipping a beat."
What Causes Palpitations During Pregnancy?
To a certain degree, palpitations are not an uncommon occurrence for expecting women. When a woman carries a child, the blood concentration within her body significantly increases. This excessive blood supply forces her heart to work harder and may cause her pulse to experience as much as a 25-percent hike from the measurements logged before she became pregnant. As a result, transient palpitation manifestations might transpire.
In addition to the increased cardiovascular requirements placed on the heart of a pregnant woman, palpitations may be precipitated by a variety of other causes. Some notable precipitators are: emotional and mental distress, mental conditions such as depression and anxiety, physical exertion, increased or excessive intake of food, beverages and medications containing heart-stimulating substances like caffeine and alcohol, illnesses of which fever is a symptom, thyroid disease and hormonal imbalances.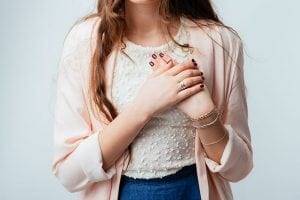 Though the chances are minimal, palpitations occurring during pregnancy might be the result of more serious cardiovascular ailments such as high blood pressure, coronary artery disease, heart arrhythmias, heart valve disease or congestive heart failure.
When to See a Doctor?
In many instances, palpitations happening during pregnancy occur intermittently, last for a short period, are not accompanied by other symptoms and do not result in any kind of debilitation. However, for the health and safety of the woman in question and her unborn child, medical professionals suggest incidents of palpitations be investigated further. If nothing else, careful examination by a physician can rule out any serious underlying cause, identify the precipitating factor and make treating the problem easier.
What Treatment Options Exist?
Specific treatment protocols could depend upon numerous factors, including the exact cause, the age of the woman in question, the trimester of the pregnancy and her overall physical and internal health.
As previously stated, certain instances of palpitations during pregnancy are minor, short-lived, do not cause any other manifestations and do not pose the risk of complications to either the woman or her baby.
However, when this condition cannot be directly attributed to pregnancy, relief may be found by employing preventative measures such as adopting relaxation techniques that limit incidents of stress, curtailing or eliminating foods and beverages containing alcohol and caffeine and using medications that do not contain caffeine or other heart-stimulating drugs.
If palpitations can be traced to a hormonal imbalance, correcting the inequity might resolve the issue.
Should the condition be caused by a diagnosed heart or cardiovascular problem, obviously, correcting the issue may eliminate the occurrence of palpitations. The best course of treatment will be contingent upon the severity of the ailment and will also take into consideration what will cause the least risk for mother and baby.


Concerns and Complications

Pregnancy Basics