Exercising and developing optimal body tone can prove challenging during pregnancy. Fortunately, however, methods do exist that enable expecting women to gain muscle mass during pregnancy.
Challenges of Being Physically Active During Pregnancy
Most medical professionals and pregnancy experts maintain exercising is safe and important for women during gestation periods.
That said, fitness regimens must be performed with caution and could present a varying degree of challenges. First, as the expecting subject's pregnancy progresses, her size may inhibit her ability to engage in certain types of movement. Moreover, the added weight could place undue strain on her bones, muscles and soft tissues. Finally, excessive physical strain could harm both mother and unborn child.
The Importance of Exercise During Pregnancy
Healthcare providers suggest adherence to a fitness regimen during pregnancy could elicit several benefits. From a physical and strength standpoint, a mild to moderate degree of movement can enhance the expecting subject's posture, in addition to preventing common occurrences like back pain and fatigue. However, routine exercise might also reduce a soon-to-be mother's chances of developing potentially serious ailments such as gestational diabetes and pregnancy-related incidents of high blood pressure.
How to Gain Muscle Mass During Pregnancy
Luckily, women can safely gain muscle mass during pregnancy by practicing the following exercises: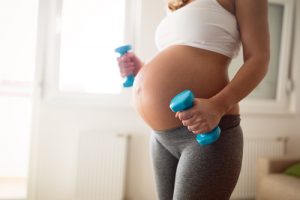 Weight Lift
No, expecting individuals are not encouraged to engage in serious, heavy powerlifting. That said, the application of small, light weights under the cautious supervision of a physician or licensed physical trainer is acceptable and is likely to produce positive results.
Frequent weight lifting can help expecting moms increase muscle tone inside the major muscle groups, which can build strength and lessen fatigue. Moreover, lifting small weights is thought to help pregnant women shed unnecessary fat or pounds. Maintaining a healthy weight is crucial for expecting mothers because it lessens the chances of gestational diabetes.
Consult With a Physician or Exercise Professional
Many women are fitness conscious prior to becoming pregnant and demonstrate the desire to partake in relatively intense fitness regimens as long as they can. However, these individuals are strongly encouraged to first discuss existing or intended exercise programs with their doctors or trainers first. These professionals can help determine if specific plans are appropriate for the expectant mom and monitor her progress throughout her pregnancy.
Consume a Healthy Diet
Because the expecting individual is eating for two, she might experience a significantly increased appetite and bizarre food cravings. That said, she should not always give in to such desires. Doing so might not only precipitate untoward weight gain, but diminish her overall health and inhibit her ability to increase muscle mass.
Medical experts and dietary professionals suggest that expecting subjects should consume a healthy diet. Healthy food consumption does not mean cutting back on calories but ingesting foods that contain nutrients pertinent to boosting both mother and baby's health. That´s why it is important to focus on a balanced and varied diet with lots of vegetables, fruits and whole grain products.
Dos and Don'ts
As a general rule, medical and fitness experts maintain there are certain dos and don'ts expecting women should adhere to when working out. Recommended exercises include light weight training, in addition to aerobic and anaerobic exercises geared towards increasing one's cardiovascular capacity are considered safe and usually effective in the muscle mass building process.
On the other hand, there are specific regimens pregnant women are advised to avoid such as anything that involves lying on one's stomach or back for extended durations, maneuvers necessitating one to hold their breath, or any exercise performed inside an excessively hot environment.

Fitness

Prenatal Health