Facial puffiness and swelling are among the common but unpopular side effects of pregnancy. If you notice your cheeks, nose and lips are bigger than usual when pregnant, you may be a victim of facial swelling, which results from water and fluid retention in the tissues around the face. As your pregnancy progresses, water and fluids may accumulate in the tissues of ankles, legs, face and hands, causing them to appear puffy and swell. Swelling is expected during the fifth month and progresses to the third trimester. The condition is known as physiologic edema.
How to Prevent Facial Swelling
1. Use a cold face mask every morning
Cold compression therapy will help reduce swelling and inflammation. Using a cool face mask every morning could reduce and prevent any undesirable swelling due to inflammation. However, don't put ice on your face directly. Gel face masks are ideal for this situation as they can easily be frozen and placed directly on your delicate facial skin as cold packs. They are also reusable. Freeze the gel overnight and in the morning, use it for 15 minutes and include it in your daily skincare routine.
2. Don't sleep with makeup
Sleeping with makeup on could cause inflammation of the skin, which contributes to facial swelling especially in the morning. Ensure you remove all your makeup before bed and thoroughly cleanse your face to avoid puffiness and swelling.
3. Use cold water to wash your face
To freshen up your skin in the morning, make cold water your friend. A cold shower in the morning will improve your overall health and reduce and prevent facial swelling during pregnancy. Cold showers improve blood circulation, boost immunity and promote fat loss.
4. Avoid hot baths and showers
Although a light and warm compress could promote fluid circulation and reduce swelling, hot baths and showers could make it worse. Heat boosts water retention. Thus, pregnant women should avoid hot baths and showers. Even basking and staying outdoors in the heat for long could make the excess fluids move from the blood to surrounding tissues, causing swelling and puffiness. This could happen when you stay in one position for too long. Therefore, experts recommend that pregnant women avoid hot baths and showers, particularly just before sleeping, because fluids are most likely to concentrate around your face while you are lying down.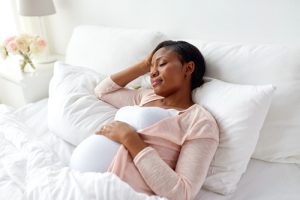 5. Hoist your head and face when sleeping
When it comes to puffiness and swelling, gravity plays a significant role. Use more pillows or invest in a bigger pillow to help elevate your head when sleeping. When your head is arched higher than your body, fluids are less likely to concentrate on your face, thus preventing swelling.
6. Lie on your left side
If your pregnancy is past 20 weeks, you should already be sleeping on the left side. It helps to reduce edema in the lower extremities by putting less pressure on the inferior vena cava. However, if your pregnancy is less than 20 weeks, avoid sleeping on your belly, as it contributes to the accumulation of fluids in the face. Sleep on your back instead.
7. Maintain a cold room temperature
Always aim for low room temperatures between 61 and 75°F to prevent temperature-induced swelling. If you don't like having the AC or fan running at night, you could open the windows to keep cool air flowing through the room.
8. Use bedding made of cotton
Cotton is a breathable material. Using cotton sheets will help your body's temperature remain cool and prevent overheating at night, thus reducing the chances of fluid accumulation and swelling.
9. Be active
Cardiovascular exercises help improve circulation and bowel movement, which allows your body to flush out excess water and salts. Pregnant women should exercise for at least 30 minutes per day. Being inactive during pregnancy could cause fluids to build up. Women who sit for long hours when pregnant can experience swelling.
Facial swelling and edema during pregnancy are common, especially during hot summer months. The above nine steps will help you reduce and prevent pregnancy swelling. If you experience sudden swelling in the hands, face and the area around the eyes, seek immediate medical attention. This could be a symptom of a severe condition known as preeclampsia. If you are unsure about your swelling, seek a prompt evaluation from your doctor. It's better to be safe than sorry.

Pregnancy Basics

Symptoms and Changes