How to hide your pregnancy during the first two months of the first trimester can be done as you carefully plan how you dress and what you eat. Choosing the right clothing and food can hide your pregnancy for weeks or even months.
Why Hide Your Pregnancy
Many women may prefer to keep their pregnancy to themselves for the first few weeks. There is a high risk of miscarriage in the first 13 weeks of pregnancy. For this reason, many women choose to keep their pregnancy quiet until after this time to avoid having to explain to people that they've lost their baby. Other reasons may be an unplanned pregnancy or to avoid awkward and uncomfortable comments from other people.
How to Hide Your Pregnancy with Your Own Wardrobe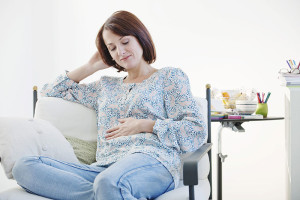 Hiding your pregnancy during the first two months can most easily be done by taking a good look at the clothing you already own. Chances are that during your first couple of months during your pregnancy clothing is the least of your worries as most women don't begin to show during this time. However, if a little baby bump is starting to show, pull out any loose or baggy shirts. The longer they are, the easier it will be to hide your growing body. Depending on how your body carries the baby will determine what kind of shirts will work best for you. If you carry high, any loose shirt should provide adequate coverage for you. If you carry low, you are going to need longer shirts to keep you stomach hidden. Loose, flowing summer shirts and dresses are excellent pregnancy camouflage. Their loose fit will not call any undue attention to you and they allow great freedom of movement. The same applies to winter tunics and flannel shirts are already fairly loose and naturally flow over the body. Hiding your pregnancy with cardigans and sweatshirts is easy to do. It can be difficult to tell if someone is pregnant without seeing their side profile. You can effectively hide your profile with a long cardigan that drapes across your sides. Button it up and wear it with a fitted shirt for another option. Sweatshirts are another great way to hide a growing stomach. They already add extra bulk and are loose and comfortable. If your own sweatshirts are too fitted, you can raid your spouse's closet or purchase one in a larger size.
How to Hide Pregnancy in Social Situations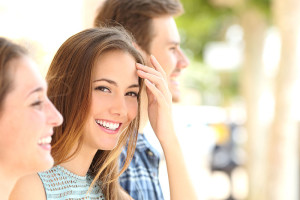 How to hide your pregnancy during a social situation may seem a bit awkward at first, but many of the restrictions of pregnancy can be easily explained away without revealing your secret. Using healthy eating can be a great way to explain away all of your new habits. You can pass on a drink, explaining that you've started a new healthy diet that restricts alcohol consumption. The same can be applied to smoking or other habits that are unsafe during pregnancy. A health explanation may not be enough in certain situations. If you find yourself being invited to a sushi bar, for example, there are usually menu choices that do not have raw seafood in them. Knowing what foods are safe to eat will help you to still eat at your favorite restaurants, but you might have to try a new food. You could also try suggesting a different restaurant or asking for a raincheck. You are going to find that if you don't make a big deal out of the changes you are making, your friends and family won't either. They will assume you are trying to live a healthier lifestyle.
How to Hide Morning Sickness
Hiding your morning sickness can be a bit more challenging that hiding your changing body. To decrease your symptoms stay away from foods and activities that commonly cause an upset stomach: spicy food, caffeine, smoking and alcohol to name a few. Smells can also be a trigger for an upset pregnant stomach. Seafood, for example, with its strong fishy smell, can be difficult to take when you already have a delicate stomach. Morning sickness can be bad enough to make you want to stop eating altogether but an empty stomach can actually make morning sickness worse. If you can't bear the thought of eating, nibbling on soda crackers, toast or other mild foods can help calm your stomach. Regularly eat small amounts of food to prevent a surprise bout of morning sickness. How to hide your pregnancy in the first two months can be done with a little thoughtful preparation and ingenuity. If you don't have the loose clothing you need, buy a few simple pieces that can be used in conjunction with your existing wardrobe to hide your pregnancy. If you plan your meals as carefully as you plan your wardrobe, you will be able to hide your pregnancy for quite some time.

Preparing at Home

Preparing for Baby

Relationships and Sex