The third trimester of pregnancy is an exciting time as you prepare to welcome your new son or daughter into your home. Your pregnancy calendar and early shopping checklists have hopefully served you well in guiding you through a healthy pregnancy up to this point, and the pregnancy shopping list continues to grow as you enter your third trimester. Be sure to check these items off during your final trimester of pregnancy.
Belly band
The first item on your third-trimester pregnancy checklist is a belly support band. This unassuming piece of fabric can make a big difference in your comfort over these final few weeks. As your baby drops in anticipation of delivery, the pressure builds on your pelvis. A belly support band can alleviate some of this pressure and ease back and abdominal pain.
Nursing bras
If you plan to breastfeed, then nursing bras will make the task much more manageable. Find nursing bras and camisoles that provide good support without being too tight, since you'll want them to remain comfortable even when your breasts are engorged.
Feeding supplies
You'll need plenty of bibs and towels on hand, as well as bottles, breast pumps, nipples, nursing pads or formula if you're not nursing. Nursing pillows are great to support your baby during feeding, taking the strain off of your back and arms.
Bathtub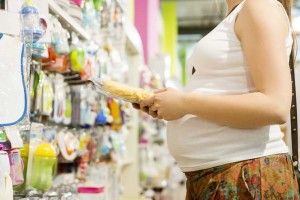 Baby bathtubs easily fit into a sink or tub and allow you to keep your squirming baby in place while you bathe him or her. You'll appreciate the convenience and safety of it once you have a slippery, wriggling baby in your hands.
Diapers
You are going to need plenty of diapers, so you might as well start stocking up now. During the first few weeks, your baby will need to be changed up to a dozen times a day. Along with cloth or disposable diapers, buy the accessories you'll need to go with them, including wipes and rash cream. A stylish and functional diaper bag to carry it all in can make the task of changing diapers a bit less unpleasant.
Baby carrier
Many women swear by slings or front carriers to carry their newborns. Both mother and baby enjoy the closeness and warmth that they can provide, and they free a mother's hands and arms so they can move about with ease. Some experts even believe that front carriers help strengthen the bond between parents and children.
Stroller
Find a stroller that will be convenient to maneuver based on your lifestyle. Whether you plan on navigating busy city streets, strolling around a quiet neighborhood or going for a jog with your little one, you can find a stroller to fit the bill. Also, be sure that the stroller you pick will keep your baby safe with harnesses and wheel locks.
Car Seat
Find a car seat that will keep your newborn safe and fit well in your particular car. There are many car seats on the market today that are designed to change shape as your baby grows, letting you get more use out of your investment.

Preparing for Baby


Shopping Lists