Are you a dog lover? Better yet, are you expecting a new baby in the near future and are troubled as to how to introduce the two?
For most individuals who have a beloved pet, incorporating another element (a baby, in this case) into the equation can be a difficult time. However, it should be noted that there are steps and processes that make this situation easier to handle for both parties. If you're ready to mesh a beautiful world that includes a new child and your furry friend, you'll want to keep reading!
Start Early
It's important to take into consideration that the homework for introducing your new baby to your pet begins months in advance. In the same way we might prepare for a long trip or a much-needed vacation ahead of time, we need to change our daily routine around our pet so they can transition more easily. In fact, taking your dog for regular walks in the park and through nature has been shown to provide a plethora of health benefits.
When we can begin this practice on a daily basis, we ensure that our dog is healthy, happy and stress-free when the baby arrives. During this transition period, keeping our pup relaxed and calm is ideal!
Mimic the Sounds of Your New Baby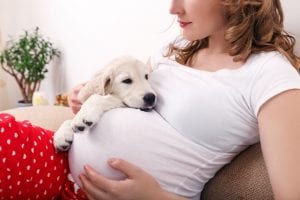 Much like humans, dogs are creatures that become attached to their surroundings and begin to find peace in a consistent routine. Ask yourself this question: How do you typically respond when you find that your daily activities are thrown into chaos? If you're anything like us, you begin to notice yourself becoming stressed, anxious and, in some cases, you may even lash out at the people you love. Similarly, your beloved pup needs to slowly become familiar with random variables that are associated with having a baby in the house.
You can start this process by taking the pet around areas where young children congregate and play with their friends. This could mean engaging in a leisurely walk by the park, introducing your dog to the sounds of young children laughing or playing audio of babies crying. By doing this in a slow and steady manner, your pup will begin to adapt and become comfortable with specific characteristics that are associated with toddlers and infants.
Similarly, you can begin using lotions and scented products that we will be using when the baby arrives. As any parent knows, baby products are jam packed with scents and aromas that keep babies comfortable and content as they grow. However, a canine's sense of smell is nearly ten-thousand times stronger than the average human's. This means, in a general sense, that these lotions, powders, creams and formulas will overpower your pup's nose and cause confusion. Instead of waiting until the baby comes home, begin using these lotions months in advance so your pooch knows these smells and becomes familiarized with them over the following days and weeks.
Your Dog Still Exists
With the addition to our lives, it's easy to become focused on the baby and forget that anything else exists. In fact, many mothers forget to eat, exercise, bathe, and even neglect tasks that they need to maintain a balanced life. Keeping this in mind, we need to ensure that our pups get the love and attention they so desperately desire.
Even after your child is in your life, you should take small moments throughout the day during which you give your undivided attention to your furry friend. This may manifest itself in the form of alone time spent walking outdoors before the day starts, committing to one-on-one time at the dog park on the weekends or relaxing with your pup for a few minutes in the evening. Whatever the case may be, your dog has specific feelings and needs, just like its human counterpart. By giving daily love to your four-legged partners in crime, you ensure them that they do matter and that you haven't forgotten about them during this transitional period.

Baby's First Year

Postpartum Basics