For moms-to-be or already new moms breastfeeding and pumping can seem like an entirely new world to learn. When it comes to pumping and storing breastmilk there are quite a bit of things to keep in mind to help you along the way.
Why Store Breastmilk?
Storing breast milk will help to make your life as a new mom easier. It will help to allow someone else to share the responsibility of feeding your newborn. Having breast milk stored up will also help to allow you and your spouse to enjoy a night out together. Or it will even help make the transition back to work easier if you are planning to return. A storage of milk on hand will help to ensure that your baby can be fed without needing to use formula, if you wish to stick to breast milk solely.
Pumping Breast Milk
 Make sure that you are pumping your milk into a sterilized container. You can use your breast pump to express directly into bottle attachments, storage bags, or you can transfer the milk into storage bags later.
You may want to invest in storage bags if you plan to freeze a lot of breast milk. This will help to make storage less bulky and to allow you to store a larger quantity.
How to Store It
Breast milk can be stored in the fridge for up to 48 hours at 39. 2 F or 4 C. This will help to ensure that it does not lose very much nutritional value or protective immunological effects. But, if you need to you can store breast milk within the fridge for three- five days.
The freezer allows for you to keep your breast milk even longer. A good place to keep your milk supply is within a freezer compartment, such as a door or a tupperware to help keep it organized and safe. If you store your breast milk within a freezer compartment of your fridge with a separate door you can store the milk for up to three- four months. If you store your milk in a freezer compartment within the fridge that does not have a separate door, then you can store breast milk for up to two weeks.
If you happen to have a deep freezer, you can store breast milk for up to 12 months!
How to Thaw Frozen Breast Milk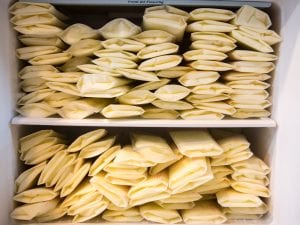 It is important to keep in mind that you should never thaw frozen breast milk using the microwave. The best way to thaw frozen milk is to hold the container under running water until the milk becomes body temperature.
Once you have brought the milk to room temperature you should make sure to transfer it to the refrigerator or into a cooler to keep the milk cool until you use it.
You can also thaw breast milk by moving it from the freezer to the fridge. If you do this, you can store the milk in the fridge for another 24 hours. However, if you have warmed it up outside of the fridge, then it can only be kept within the fridge for about four hours to remain good.
Keep in mind that you will need to stir or swirl the milk in order to gently mix it back together. Breast milk is not homogenized so you will notice some separation after storage.
Extra Tips to Consider
Here are a few tips that will help to ensure storing your breast milk is a quick and easy process: 
Label everything- The best way to help you keep track of your breast milk and how long it is good for, is to label your bottles or storage bags. Make sure to put the date that you pumped and the amount on the bag if you can. Try and put your newly expressed milk behind the milk that has already been in the freeze. This will help you to always grab the milk that expires first.
Store in small amounts – Try to store your milk in small amounts. This will help to not waste milk when you use it. You can avoid thawing larger quantities and needing to toss the milk that you do not use.
Freeze breast milk quickly – Doctors recommend to freeze your breast milk as soon as you have expressed. But you can still freeze it within 24- 48 hours if you do not use it right away. It is not safe to freeze breast milk after it has sat in the fridge for 48 hours.

Breastfeeding

Postpartum Basics