Monkeypox is a rare viral disease that is most similar to the former smallpox virus. It is found mainly in Central and West Africa, where it gets its name from outbreaks occurring in monkey populations. However, due to its zoonosis characteristic, (a virus transmitted to humans from animals), the human-to-human transmission not only is possible to occur, but recently, has been occurring at an alarming rate worldwide.
Causing severe illness in people of all ages, the monkeypox virus is one infection current and soon-to-be parents are finding themselves concerned about as it continues to make headlines.
Understanding the Basics About Monkeypox
Though less contagious than smallpox and not considered a serious global health threat, the monkeypox virus can still be dangerous for certain groups of people, such as those with weakened immune systems, pregnant and nursing women.
It is important to note that Monkeypox can be spread through contact with infected animals and other humans and is most commonly transmitted from person to person through close, personal, and often skin-to-skin contact, including:
Direct contact with monkeypox rash, scabs, or body fluids from a person already infected with monkeypox.
Touching objects, fabrics (clothing, bedding, or towels), and surfaces that have been used by someone infected with monkeypox.
Contact with respiratory secretions and droplets, such as coughing or sneezing.
Kissing, massage, sex, or other intimate. skin-to-skin contact with a person infected with monkeypox.
Typically showing symptoms within three weeks of exposure, monkeypox results in a number of symptoms. The most common symptom is a pimple or blister-like rash that goes through several stages, including scabs, before healing. Additional symptoms can include fever, chills, swollen lymph nodes, exhaustion and muscle ache, headache, and in some severe cases even death. Additionally, some experience respiratory symptoms such as; sore throat, nasal congestion or cough, flu-like symptoms prior to rash onset, and symptoms can last two to four weeks.
There is no specific treatment for this viral infection, but early diagnosis and supportive care can improve outcomes. Prevention is the best defense against the virus, and vaccination is the most effective way to prevent monkeypox infection.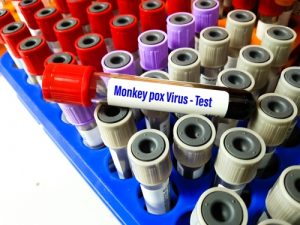 Epidemiologist Bill Jesdale, and reporters from NPR.org, assessed data of cases in September 2022 and determined the potential for catching the virus in comparison to the COVID-19 infection and determined the following statistics:
1 in 3.8 million – Chance of catching monkeypox if you are a child under 15 in the U.S.
1 in 260,000 – Chance of catching monkeypox if you are a woman or heterosexual man in the U.S.
1 in 4,000 – Chance of being hospitalized with COVID-19 if you're fully vaccinated*
1 in 750 – Chance of catching monkeypox in the U.S. if you are a man who has sex with men**
1 in <2 – Chance of having caught COVID-19 in the U.S. throughout the entire pandemic
* The risk of being hospitalized with COVID-19 is higher if you are age 65 or older and lower if you are younger than 65.
** The risk of catching monkeypox if you are a man who has sex with men is higher if you have multiple sex partners and lower if you do not have multiple sex partners. According to the CDC.
While data suggests that sexually active gay and bisexual individuals, specifically men who have sex with men, make up the majority of cases in the current monkeypox outbreak, however, the Center for Disease Control (CDC) confirms that anyone, regardless of sexual orientation or gender identity, who have been in close, personal contact with someone who has monkeypox is at risk of contracting the virus.
Pregnancy and Monkeypox
Research has found that among those who are at the highest risk for severe infection and symptoms if exposed to the virus, pregnant women and young children are more likely to experience complications from the disease, due to already compromised or limited immune responses in the body.
Additionally, research has found that pregnant women who contract the virus are able to pass the virus to the fetus during pregnancy, who may be born with the virus, or to a newborn through close contact during and after birth. In cases of pregnancy and monkeypox infection, stillbirth and preterm delivery were both reported in some cases, as has neonatal monkeypox cases.
Although monkeypox is similar to smallpox, current findings indicate that the virus is less severe when it comes to illness manifestations during pregnancy, and does not have as high of a risk for hemorrhagic complications and death.
Monkeypox and Young Children
Like pregnant women, young children are also more likely to develop severe symptoms and may have a higher risk of complications from the virus, due to their limited immune system. Additionally, children with eczema and other skin conditions, as well as those with immunocompromising conditions may be at increased risk of disease infection and complications.
Although data about monkeypox cases amongst children is limited, there is evidence from patients infected with the monkeypox virus, that the disease is more likely to be severe in children under eight years of age or who have the additional risk factors listed above.
What to Do If You Think You Are Infected
If you are pregnant or nursing and have been exposed to the virus, you should consult with your doctor immediately. You will likely be monitored closely and may need to be hospitalized for observation or to be treated with antiviral medication. Your doctor will also work with you to create a plan to help protect your baby from the virus.
If you must be around someone infected, wear a mask and gloves. Wash your hands often and avoid sharing personal items. If you believe you are showing symptoms, be sure to monitor your symptoms closely, and call your doctor if you develop a fever, rash, or headaches. Early diagnosis and treatment can improve your chances of recovery.
There is no specific treatment for monkeypox, and when it comes to prevention, the smallpox vaccine is approved for helping prevent infection, however, the best preventative measures include:
Practicing safe sex, especially if you have multiple partners.
Avoid exposure to individuals who have contracted the virus.
Practice regular hand washing for 20 seconds with soap, or use an alcohol-based hand sanitizer.
Avoid close, skin-to-skin contact with people who have a rash that looks like monkeypox.
Avoid contact with objects and materials that a person with monkeypox has used.
Avoid touching your face when in public.
Vaccination against smallpox can also help protect against this virus, although it is not 100% effective. If you live in or travel to an area where the disease is common, or cases are on the rise in public areas such as schools or churches, consult your doctor about the best way to protect yourself and your family. Monkeypox is a severe illness, and it is essential to take all necessary precautions to reduce your risk of exposure.


Concerns and Complications

Pregnancy Basics