After having a baby, it's normal to feel exhausted. Your body has undergone many changes and is working hard to recover from pregnancy and labor. To make matters worse, you're probably not getting much sleep.
Postpartum fatigue is exactly as the name suggests; a type of exhaustion that can occur after giving birth. This postpartum fatigue can be caused by several factors, including sleep deprivation, hormonal changes, and the mental and physical stress of caring for a new baby. In addition, women who are postpartum often must contend with disturbed sleep patterns, as frequent crying from a newborn wake them throughout the night. Additionally, breastfeeding can also contribute to fatigue, as it requires a significant amount of energy and can be a demanding schedule in the early stages. All these factors can combine to make postpartum women feel extremely tired.
While it might seem like the same thing, this fatigue is different from the occasional tiredness you might feel before or during pregnancy, as it can last for weeks or even months, and in some cases this onset of postpartum fatigue can make it difficult to care for your baby or accomplish everyday tasks.
While it can be difficult to cope with this new onset of immense fatigue, there are several ways to manage it, or at least help minimize it enough so you can get through your day.
Tips for Dealing with Postpartum Fatigue
Take Naps When You Can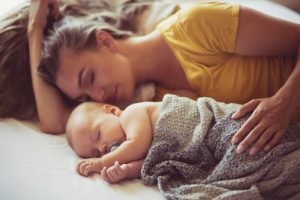 After having a baby, it's normal to feel exhausted. Dealing with a baby can be a full-time job, and it's often hard to find time to rest. It is essential to give yourself a break when you can. If you're able to, take naps when your baby naps. Even if you can't sleep, lying down for a few minutes can help refresh you. It will make a big difference in how you feel. You might also want to try sleeping when your partner is home so you can have a break from nighttime feedings.
Ask for Help
If you cannot put up with the demands of parenthood, it's important to ask for help. Whether hiring a babysitter, having family come over for a few hours each week, or asking your partner to pitch in more around the house, giving yourself a break can make a big difference. Don't try to do everything yourself. Delegate chores to friends and family so you can focus on caring for yourself and your baby. It takes a village to raise a child, as the old saying goes, and trying to do everything on your own can be an overwhelming task, so, try not to do it alone. Let others pitch in with things like cooking, cleaning, and childcare so you can get rest when you need it the most. It is especially important to ask for help when navigating postpartum depression, as your focus should include balancing hormones and getting the support you need.
Eat Healthy Foods
Just because pregnancy is over, doesn't mean nourishment shouldn't still be a priority when it comes to your health. Your body is healing and working hard, so you will need nourishing foods to keep your energy levels up. Consuming plenty of fruits, vegetables, and whole grains will help you stay healthy and avoid postpartum fatigue. Stick to healthy meal planning to help avoid sugary snacks and convenience foods as they tend to lack nutrients and can make you feel worse in the long run. Plenty of water will also help flush out toxins and keep your body hydrated. Additionally, ensuring you're getting enough nutrients through postpartum supplementation can also play a vital role in meeting nutrient needs postpartum.
Get Some Exercise
Exercise may not be on your to-do list when you are tired, but a little activity can boost your energy levels and improve your mood. Taking a brisk walk or going for a swim are great ways to get some exercise without feeling too overwhelmed. Remember to listen to your body and take it easy, as you don't want to overdo it and make yourself even more exhausted.
Click here for our guide to Postpartum Exercise; When and How to Work Out Safely
Connect with Other Moms
Talking with someone who understands what you are facing can be very supportive. You can also compare notes on how you deal with postpartum fatigue and share tips for getting through the day. Connecting with others in the same dilemma can make the transition to parenthood easier. A supportive community can make a lot of difference, whether online or in person, having a go-to mom friend can be super beneficial.
Seek Professional Help
If you cannot cope with postpartum fatigue, it's important to seek professional help. Share with your doctor or a therapist about what you're going through. They can provide support and resources to help you through this tough time. They can also provide treatment options if you're struggling with depression or anxiety. Don't hesitate to seek help if you're overwhelmed, and especially if you think you may be struggling with either baby blues or postpartum depression, it's nothing to be ashamed of.
It is very normal to feel exhausted after giving birth. Your body has been through a lot and needs time to recover. The best thing is to listen to your body and give yourself the rest and recovery you need. Drink plenty of fluids, eat healthy foods, and get as much sleep as possible.
If you're struggling with postpartum fatigue, talk to your doctor if you still feel fatigued after a few weeks. Postpartum fatigue is rarely a cause for concern, but it's always best to avoid caution, and a doctor can help you manage your symptoms and get the rest you need.

Postpartum Basics